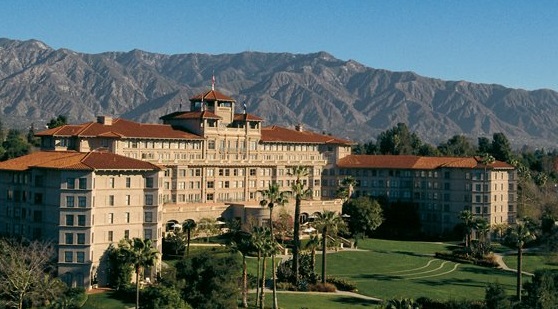 Langham Huntington
The grande dame of Pasadena hotels marks its centennial in 2014. Want a stayover? The Langham Huntington's offering celebratory deals.
MANY QUALITIES... make a fine hotel a fine hotel. Some might say it is the pattern of the plateware and some a high thread count in the linens. Others like beautiful landscaping and some prefer an excellent restaurant or bar. Us? We applaud all of that, for sure, but it ultimately comes down to two things. The people of the hotel -- of course -- and the level of service is number one, forever and ever, close the book, thank you, and good night. Truth? But number two, and this may leave more room for discussion, is this: A famous, grand, historic, and utterly fine hotel should boast an excellent arrival. Call it a first impression, if you will, call it the initial handshake, put any name to it you like, but you know where we're going with this. You kind of have to love the place from the get-go, which can't be easy on the property's part. With that in mind, we wish all hotels everywhere would spend a day learning from...
THE LANGHAM HUNTINGTON... which could write the book on strong arrival, from that sweeping driveway -- yeah, we got flowery and said "sweeping" and we meant it -- to the polite welcome. But, of course, the Pasadena landmark has had some time to polish its first impression. A hundred years, in fact, meaning that the Langham is doing it up, centennial-style, in 2014. There's an anniversary package to mark the auspicious auspiciousness of the occasion -- Celebrate a Century is the name -- and it include a $100 resort credit. (We love business centennials, because deals tend to come in impressive hundred-dollar increments.) A special Huntington martini, in the Tap Room, will also cheer the year in swanky, sippable style. Swanky because there's a pinch of gold dust, and some ginger liqueur, too. For all of the 100-year-happy-hello doings, keep an eye on the Langham.
(Really, though, that driveway and approach is pretty phenomenal. Langham Huntington, can we just swing by today and drive up, a few times, for the thrill of it?)