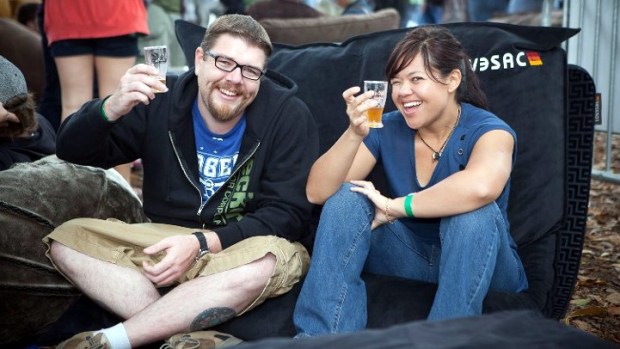 California Beer Festival
Have you looked north, SoCalers, and wished the traveling California Beer Festival would make its way to our own stomping grounds? Raise a glass: San Dimas and Ventura are up in September.
LET'S ALL GET ALONG: As much as California-obsessed wags would love to pit San Francisco vs. Los Angeles, or NorCal against SoCal, it's a pastime that doesn't hold much water. Or beer, for the matter at hand, if you prefer. Angelenos are known to visit the City by the Bay with some frequency -- oh, how we love those hills, the fog, and ice cream around the Mission -- and NorCalers often make their way south (and not just for the great parking, though there is that). But when something tasty starts out in one section of the state, well... people in the other section can get a mite amped-up, and impatient, wanting to try it for themselves. Take the California Beer Festival, the summer-to-fall traveling suds spectacular which rounds up dozens upon dozens of regional beermakers -- and some beyond -- and sets them up in a wide space with plenty of room to sample, chitchat, dance, and enjoy the sunshine. It's already been to Marin and Santa Cruz this year (those lucky ducks) and it is making its way towards Southern California. San Dimas and Ventura, to be specific, and the dates? They're in that most perfect of beer-enjoyment months, September.
NO... we're not stoking any rivalries by saying that SoCal gets the best brew-trying month. Summer is excellent for that, but soft, late-summer-y sunshine? It's a setting that seems invented for smooth beer sipping. The San Dimas date is Saturday, Sept. 6 while Ventura kegs-it-up on Saturday, Sept. 20 and Sunday, Sept. 21. Who's there, label-wise? Oh, oodles of people who know their foams, including American Vintage Beverage Co., Kat Daddy Brewery, and Chaucer's Cellars. Yep, there's stay-over info, too, and you'll want to arrange your taxi or designated driver friend. Bring a friend, we say, the better to discuss all that you love about Northern California, and how you're not jealous at all that the California Beer Festival starts there and not here. Patience is a virtue in all things, but definitely in awaiting fine, thoughtfully crafted brews. Tickets? Here.