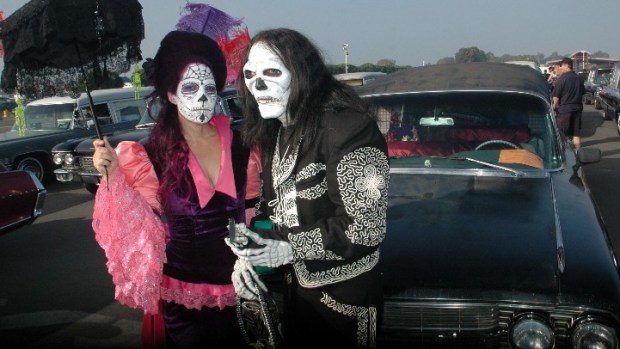 OC Marketplace
The 12th Annual Halloween Procession and Show happens in Costa Mesa on Sunday, Oct. 30.
HALLOWEEN EVE DRIVE: The hearse is a functional vehicle. It has a specific purpose. And yet. And yet. Where other cars or trucks or wagons with particular functions continue to go about those functions without entering story or legend, the hearse has a fan base. It has tales told. It appears in movies probably more often than another other dedicated vehicle (well, maybe except ice cream trucks). That has much to do with its funerary ties, of course, but hearse buffs also like its long shape and stately manner. That stateliness will be celebrated on Sunday, Oct. 30, when hearse owners gather in Costa Mesa to go on parade.
OTHER VEHICLES, TOO: The Halloween Hearse Procession, which sets off from the carnival lot from the Orange County Fairgrounds at 10 a.m., is open to all "hearses, ambulances, limousines, flower cars, and any funeral going vehicle." The sign-up for hearses is closed but many non-hearse owners are expected to watch the procession. A day of Halloween-themed doings at the OC Marketplace will follow the morning drive. Giant pumpkin carving and trick-or-treating are two hallmarks of the celebration. And the hearses will park and be on show, giving auto enthusiasts and hearseans a chance to wander and peer at their own pace.