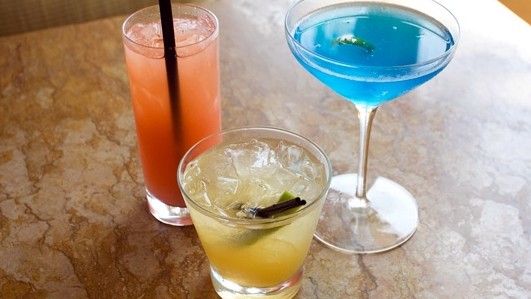 Casa del Mar
Enjoy cocktails from a trolley at Casa del Mar every Monday night.
CHRISTMAS, MEET JANUARY: Holiday happenings have a way of abruptly wrapping up on Jan. 2. It's time to be serious, time to get on with the new year, time to leave the fripperies and fun of the sparkly season behind. So when a swanky seasonal to-do does extend into January, and it is scheduled for Monday nights, when we do need something a bit sparkly, we make note. And today's note? Hotel Casa del Mar's High Trolley is still wheeling up to tables, despite the lack of tinsel about. It's a cocktail trolley, in short; nine bucks a drink, and the mixologist will make it at your table, so you can burrow in and not even give walking to the bar a second thought. That's how we like to play Monday: nice and easy.
TABLESIDE CHEER: We've said it before but, like all things bearing repeating, this one certainly does: tableside anything rocks. Salads, Cherries Jubilee, Steak Diane, and, yes, fancy cocktails. We want to see them concocted atop a trolley mere feet from where we sit. We're also intrigued by some of the past drinks that have been featured on the Casa del Mar trolley, including the Beach Flower, which boasts green tea, Amaranth, tequila brimming with jasmine, and a few other tasty and unusual additions. So wheel that trolley up, please, dear bartender; the holidays are over but a little festive cheer is never unwelcome in the new year.