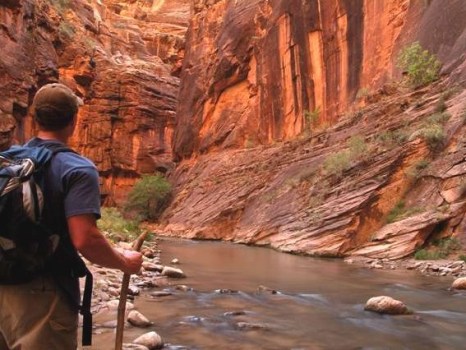 Xanterra Parks & Resorts
Beautiful Zion National Park; the Western Cabins at the Zion Lodge just re-opened after recent renovations.
IN-PARK LODGING: Maybe it is summer vacation. Probably it is summer vacation. But, anecdotally, we've heard of a few Angelenos heading over to Zion National Park for a long, leave-the-city-behind weekend. Thank goodness Zion sits just few hours beyond easy-to-get-to Vegas, and, if one loves driving, it is a snap of a trip. If you've been meaning to add Zion to your national parks checklist, there's more good news: The Zion Lodge's Western Cabins just got renovated, and reopened earlier this summer. WESTERN DREAM: If we stayed in one of the historic, built-in-'27 Western Cabins, at the famous Zion Lodge, inside Zion National Park, we would so wear spurs. We'd probably even sleep in them, carefully. Get more information from Xanterra Parks & Resorts.