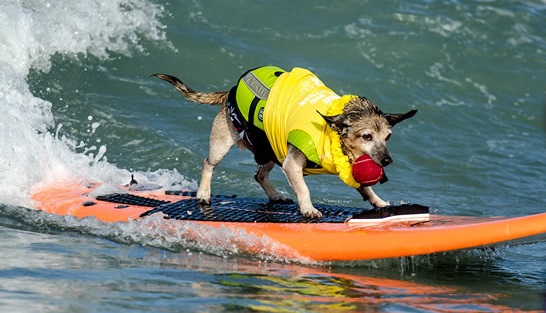 Surf Dog Surf-a-thon
Surf Dog Surf-A-Thon heads into the foam off Del Mar on Sunday, Sept. 7.
DOGS HELPING DOGS: If you've lived for a day with a dog -- maybe even an afternoon -- you know at least a few of your pup's preferences. He doesn't like when the front door shuts to loudly, he'll eat his treat in one gulp (and only when he's standing in the kitchen, next to the sink, for whatever reason), he bays when the mail is delivered, and the ocean? Well, he is wild about it or wants to jump straight in or stick to the beach, a found wooden stick in his mouth. The shore seems to be one of the magic places where waggers come to life, or extra life, since pups are pretty dang exuberant at home, for the most part. Is it the wide-open-o-sity? The sounds of the waves breaking? That everyone there is in a recreational mood, which is, after all, a dog's main mode of living? Well... only a dog can answer. But the barker-beach connection has to be one of the reasons why the Surf Dog Surf-A-Thon gets soaked, all for doggie welfare, each year on the Sunday following Labor Day. The dogs on surfboards fundraiser, which is hangs ten (or twenty, if you prefer) on Sunday, Sept. 7, draws participants from across the region, humans and their dogs looking for fun and to help out hounds in need.
THE DAY'S BENEFICIARY... is the Helen Woodward Animal Center of Rancho Santa Fe, which assists animals in a plethora of ways. As for the surfers? A lot of the dogs, and their people, have been practicing at the surfing (and stand-up paddleboarding) classes that the center scheduled throughout the summer. Meaning? You'll likely see some impressive skills. Or... if the competitors are still new, there are other things to admire, like how sweet the pooches look in their vests. And will a few dogs likely romp on the beach to let off some surfing steam? Well, it's true: canines and the sand have a long and close relationship. The Surf-A-Thon truly is one of the annual California happenings that puts a spotlight on waggers, the waves, and giving a boost to barkers who need a home.