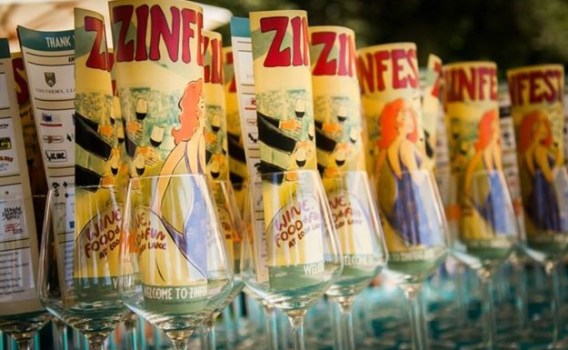 Dale Goff
Are you a person who has to have their wine with some personality? Some oomph? Some kapow? Yep, then you like zinfandel. Lodi does, too, and shall celebrate the vino from May 16 through 18.
WARM-WEATHER PATIO HANGOUT: If you've ever visited a friend at her house at around 6:12 on a Friday evening, when it is summertime and the sun is still warm, she's very likely asked you if you want something to drink, tea, water, wine. And if you've chosen the wine route, you've likely asked her for something that is a balmy-appropriate beverage. It isn't a heavier red, and you might have been grigio'd-out. But zinfandel? It's the party wine for patio-loving loungers come the roastier days of spring and summer. So it makes complete and satisfying sense that two of the mondo zin-focused festivals in the state both happen in the run-up to warm weather: Vintage Paso, in Paso Robles, is the zin-y confab come March, and Lodi's ZinFest falls plunk in the middle of May. These aren't regions in zin-tastic pursuits, either; they're both leaders in producing the spicy, kicky, full-of-opinion wine, which lends both of their multi-day parties flavor. Lodi's line-up-the-glasses party is up from Friday May 16 through Sunday, May 18, with the big Wine Festival happening on Saturday, May 17 at Lodi Lake Park.
ZIN-ISTS, GET YOUR INFO: "(A) selection of 250 wines from 50 Lodi wineries" are the festival stars here. Those wineries include Gnarly Head & Brazin, E2 Family Winery, Kidder Family Winery, and McCay Cellars, which is set to show with a 2013 Jupiter zinfandel. Nope, zins won't be the only thing on the pour -- sauvignon blanc fans, rest easy, your favorite will make several cameos -- but you can bet the star sip of the weekend will get the lion's share of love (or oenophile's share, if you want to be totally accurate). Cost for the Saturday fest? Fifty five dollars, or ten if you're designated-driving. It's a 21-and-over dealie, as you can guess. The only thing left to determine is how many Friday patio lounging moments you'll plan for this summer, after you stock up on a rainbow of zinfandels to cart on home. Call it the official grown-up beverage of the warm-weather patio hangout.