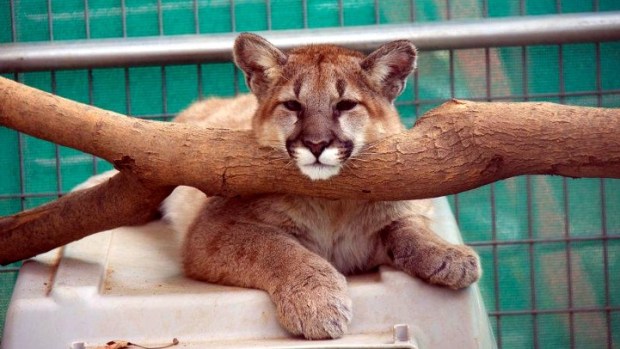 OC Zoo
A pair of orphaned Mountain Lion cubs are now sitting pretty at the OC Zoo in Orange.
BIG CUBS: When you hear "Mountain Lion cubs" you're apt to think of two roly-poly little tumblers playing on some craggy cliffside. (Okay, we've saw far too many cute documentaries as a kid, we admit it.) But Mountain Lions, of course, are powerful beasts -- "cute" isn't necessarily the first word that springs to mind, though "magnificent" or "beautiful" might be -- and they don't stay small for long. So when word comes that the OC Zoo in Orange is ready to debut its two rescued cubs, a pair that has received plenty of buzz in recent days, it is best to think of those young'uns on the large size. They were, in fact, over 50 pounds at the start of this year, meaning they'll look more like strapping kid cubs than wee babes. They were also ready to meet their public, which they did on Saturday, March 31 when they made their official OC Zoo debut.
REFURBISHED ENCLOSURE: They've got an updated enclosed space at the zoo (so when we say they'll meet their public they'll do so from a distance, of course). If you want to know a bit more about the cubs' dramatic history -- officials believe their mother was hit by a car last year -- you can read more at the zoo site. Oh, and Beaver people? You're not left out, either. Check out the big-tailed pair that's sharing headlines with the celebrity Mountain Lions.