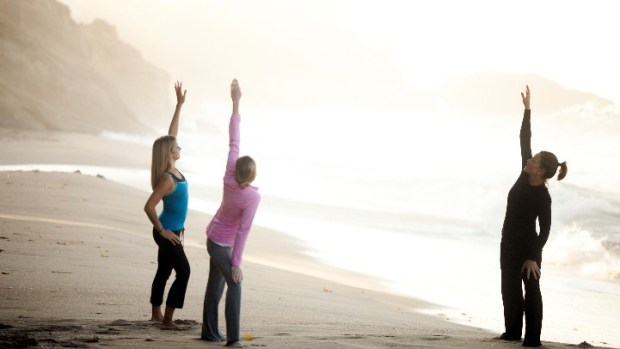 Surf & Sand
Beach yoga is just one of the offers at Laguna Beach's Surf & Sand Resort.
CHOICES, CHOICES: If a pretty, water-close resort has a package on, we're usually pretty stoked. We want to save money and/or we want fun extras with our stay. Pretty human, right? We all share these desires when it comes to planning dream getaways? We don't think we're stretching here. But when there are a whole truckload -- or would that be boatload, given the resort's ocean proximity? -- of choices, we get a little befuddled. Do we go s'mores or yoga? And can we be a person that likes both creamy, graham cracker concoctions and Downward-Facing Dog? (Yes, we can be.) If you like being delightfully befuddled by choice, and daydreaming about an ocean-nice getaway, check out the multitude of deals going down at Surf & Sand Resort in Laguna Beach.
MOVIES, LOBSTER, STRETCH: Several deals and packages are set to kick off on March 30. The ones we're eyeing include the Poolside Dinner and Dive-In Movie, the Beach Contests (we'll probably face-plant during the limbo but we so got the hula hoops), and the Old-Fashioned S'mores and Hot Chocolate (our reward for ruling the hula hoops). Peruse everything going down and start dreaming about warmer weather pronto.