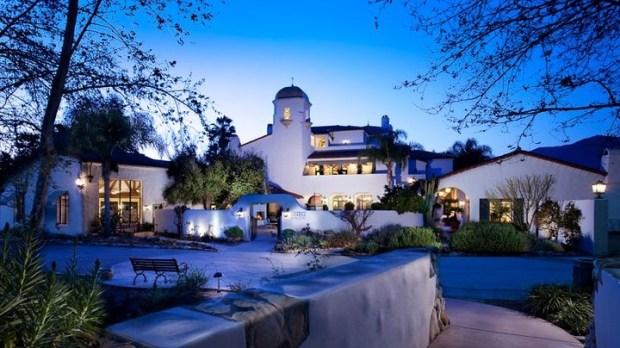 Ojai Valley Inn & Spa
Ojai Valley Inn & Spa is offering a trio of Valentine's Day packages in 2013.
THAT PINK MOMENT: We're not sure that any one place, save perhaps Paris, gets an automatic seat at the "Most Romantic Cities" table, but there are a few asterisks to our rather sweeping statement. High up on the list is this: If you are a city, and you have a fabled time of day called "The Pink Moment," and it falls around evening, and the sky goes a bit peachy, and everyone swoons, well then, yes, you, too, get an automatic seat at the "Most Romantic Cities" table. It's hard to challenge a place with its own daily Pink Moment, especially when that place is Ojai. The rustic, easy-breezy town pretty much defines the Golden State's singular brand of Western, big-sky'd, rolling-hill'd romance, meaning that spending the one day that's all about romance in Ojai is a wise decision indeed. And when your chosen spot is the Ojai Valley Inn & Spa, and there are three packages to choose from, well. Hello, hearts in your eyes.
A TRIO OF STAY-OVERS: The destination indeed has three lovey packages for February 2013. Relax into Romance involves dinner at Oak Grill and a bottle of wine, Rekindle Romance has "Pink Turndown Service" (yep, they're serious about the Pink Moment 'round these parts), and Reignite Romance boasts a couples massage, as well as some other extras. There are other nice things orbiting these packages if you're interested in adding on: think s'mores and a resort property treasure hunt. Whatever dates you choose during the Love's Official Month, and whatever package, really do make time to catch the Pink Moment in the evenings. And think about how you are indeed in one of the world's softest, sweetest towns, with its rolling hills and horses and wines and its peachy-perfect dusk.