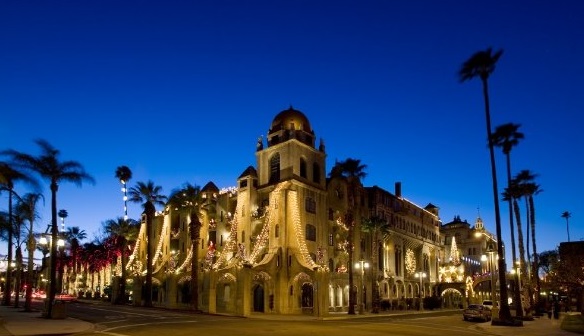 Mission Inn
The Mission Inn's holiday-time Festival of Lights begins the day after Thanksgiving (Friday, Nov. 29).
BEYOND THE SINGLE STRING: It's the rare event that achieves several disparate goals at the very same time. Take the Mission Inn's annual Festival of Lights. The Riverside landmark famously does it up on the glowing bulbs front, so much so that any other place that hopes to do it up faces some very stiff doing-it-up competition. So the first goal that is achieved? Holiday wonderment and delight. You can't help but feel it when gazing up at all the lights -- over three-and-a-half million of 'em -- lining the historic hotel. But the second goal is perhaps more personal to those who face decorating their own tree and front yard each year. Four or five strings of blinking color, tangled though they may be, seem easy when one considers the truly mammoth task of decking out a truly mammoth hotel. True, there is a whole team in charge of the Mission Inn's yuletide transformation, but it is a good perspective reminder that a few strings shouldn't best any person any year.
THE FESTIVAL... has a nearly set in stone -- or is "set in gingerbread" more appropriate? -- start date each and every year: The Friday after Thanksgiving at sundown. That's when the switch is thrown, and it stays thrown, at least at night, through Jan. 4. But it isn't simply the millions of bulbs that dazzle and draw visitors. Victorian carolers, hundreds of animated toys and figures tucked up in nooks, and more festiveness than you can shake a candy cane at are hallmarks of a Mission Inn Christmas season. There are packages, too, in case you want to both admire and spend the night, and special additions like cupcakes and hot toddies are included in some of them. Yep, a hot toddy and a stroll through the fortress-fabulous hotel on a brisk December night sounds fairly storybooky to us. And isn't that what we all long for, a little, come the end of the year? A hint of storybook surprise? The answer, friends, is a big, peppermint-flavored yes.