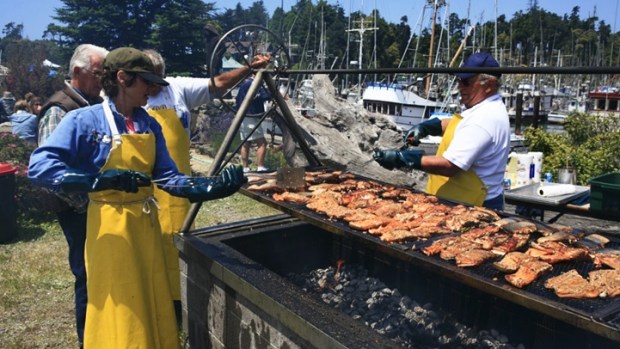 World's Largest Salmon BBQ
The World's Largest Salmon BBQ gets the coals a-burnin' on Saturday, July 5 in Fort Bragg.
FISH FANS... can be pretty passionate about their favorite fins, but, moreover, their favorite cooks and how those cooks prepare the dish in question. Oysterists will stand by a stand that hands out buckets of the bivalves, buckets that are pure oyster and little seasoning. People into trout swear by pine nuts and blue corn meal as the perfect topping and crust, or no topping or crust at all. But salmon lovers? We're talking about a big group boasting a wide variety of opinions. Should the meaty delicacy be smoked on a cedar plank? Is it best drizzled in teriyaki sauce? Or neat? How about kebab'd or, mmm, made into jerky? It's one of the most versatile gifts of our waters, it is true, but regardless of how you take your salmon, taking it next to the water, on a glorious early summer day, at an event that's solely about this particular fish, has to be a singular pleasure. And salmonians who seek that pleasure seek out South Noyo Harbor in Fort Bragg each July, as that's the very smoke-nice spot that the World's Largest Salmon BBQ heats up.
DATE AND DETAILS: The fiery coals and fragrant woodsmoke'll get going on Saturday, July 5. Tickets are thirty bucks at the door, there's live music, there's socializing, there's ocean breezes. Oh, and, indeed, there shall be sides: corn on the cob, green salad, and garlic bread have been served in years past. (Don't even start a salmon enthusiast on the perfect side, because that conversation is going to grow colorful and complicated; we'll stand by broccolini ourselves.) And the ultimate beneficiary? The eaters, of course, win, but so does the Salmon Restoration Association, which employs the day's proceeds to "improve salmon populations on the Northern California coast." A worthy cause regardless of what your favorite seafood happens to be.