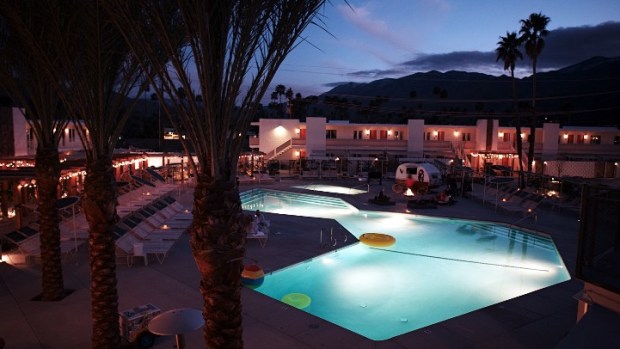 Ace Hotel
No Labor Day Weekend plans as of yet? There are last-minute deals to be found.
BIG PLANS: Sometimes a holiday weekend has a way of appearing out of the blue. One minute we're sitting around, working, going to the grocery store, trying to find the address labels for the bills we have to pay, and we're thinking about doing something vacation-like, and we're thinking about not letting the summer get away from us, and then, zap: It's Labor Day Weekend and all we've got in our hand is a stack of bills and address labels. What we should have, of course, is a map and sunscreen and reservations for a hotel with a pool, but a large percentage of us just are too busy to put in that sort of planning. But Palm Springs hears us and wants to help. So much so that the nice visitors people went and rounded up a bunch of places offering holiday weekend specials of a significant sort. We're liking what we see on the list, so let's dig in.
ALL THE DEALS: Ace Hotel & Swim Club has a special 20% off deal, with a special promo code. Terra Cotta Inn is offering 50% off a second massage. And the Travelodge has a sweet third-night-free thing afoot. If you and your pals wanted to road trip but didn't yet get together, for the aforementioned reasons or reasons we're not even thinking of, look down the list and see if something catches the eye. There might be a pool in your immediate future, and at a nice price, too.