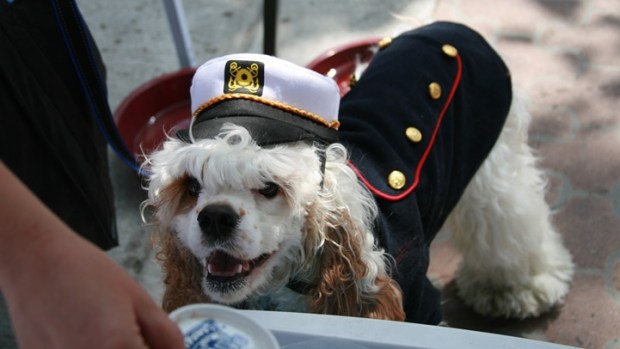 Pet Day on the Bay
It's a towel and blanket drive for needy pups, indeed, and it is a way to take a short cruise with your canine. It's Pet Day on the Bay, and it happens in San Diego on Saturday, May 17.
GREETING CARD CANINES: Dogs in advertisements and on greeting cards don't always act like the pups we know, nor do they go the same places as our pooches. It's not unusual to see a dog aboard a yacht or in a marina, leading the good life with his humans. But our own furry friends? Yeah, they don't go on all that many yachts, seeing as how that remains one place that pups aren't commonly invited (yes, certain beaches and beach-adjacent restaurants, for sure, but less so any vessel that heads out onto the Pacific). But Hornblower Cruises offers animal lovers and admirers of aspirational advertising to a special day out on the ocean each year, and for a special reason: It's a towel and blanket drive for the Helen Woodward Animal Center. Yep, that tells you it is indeed in the San Diego area -- the center is located in Rancho Santa Fe -- so you'll be enjoying the San Diego skyline from the deck of a boat alongside your bowwow. And the date? The perfectly sunny and springtime Saturday, May 17.
KNOW BEFORE YOU GO: As you can imagine, given the special circumstances, there are a few things to keep in mind before dressing your Dachshund in his skipper-cute best for Pet Day on the Bay. Only one dog is allowed per adult and pups have to stay leashed. Also, from the probably-goes-without-saying department (but is still best said): If you're dog isn't into motion, say, car rides, he or she may not do well on a boat. The cruise is an hour long and is narrated, so you'll bone up on your San Diego information -- yeah, we said "bone up" -- and it costs twenty three bucks. Your Fido? They board for free. Get all the to-knows on the towel and blanket drives and what to expect. We can already see your Instagram now, practically: Dogs on deck.