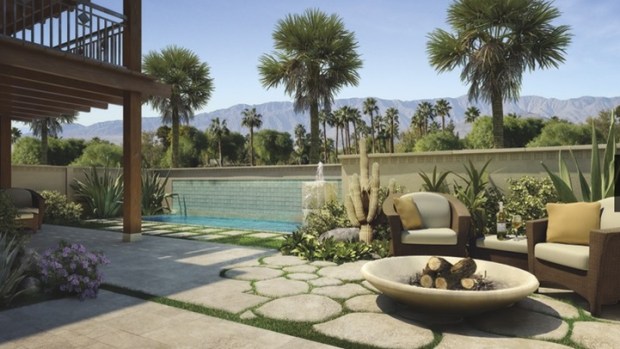 Ritz-Carlton
The Ritz-Carlton at Rancho Mirage re-opens on May 15.
POSH WITH A DESERT VIEW: A luxurious vacation is often presented as a time of cut-crystal flutes and ponderous chandeliers and baroque ballrooms and dressy-fussy nights. Advertising frequently tells us this, and pop culture, but we in Southern California know better. Oh, that swanky stuff is fine, and even fun, now and then, but we prefer our posh with a breeze and our upscale with the stars overhead. In short? Indoor-outdoor living can be luxurious, lavish, and a special treat, too (so there, heavily curtained, painting-filled ballrooms). At the forefront of this idea are the desert resorts, in and around Palm Springs, those places that do it up via fine dining, top-notch service, sumptuous spa treatments, and suites that are custom-made for a magazine cover. One of the grande dames of the desert swank scene is set for a re-debut in the middle of May, and you can bet that both indoor/outdoor aesthetics and plush touches shall be rife. The spot's name? Ritz-Carlton. The place? Rancho Mirage.
OPENING DAY... is May15, meaning that swim season shall be in full effect. (Though does that ever truly end in Rancho Mirage?) We should also refine that and say "re-opening day"; the property opened just over a quarter century back, morphing through a few parent companies, including Ritz-Carlton. The new hello brings 244 rooms and suites, a two-level spa, a casual California-y restaurant called State Fare -- nice handle -- and a steak- and seafood-themed spot called The Edge. And, of course, all of that breezy, open-air access to the wild-edged grounds, grounds set against a 650-foot bluff and the Santa Rosa Mountains. "Sweeping valley views" are the theme, meaning that, yes, indeed, a luxury vacation is about palms and sunsets, too. And is there a hello there, get to know us package? You bet. It's called the Opening Celebration Package, it's good through June 30, and it costs $379 a night (parking, breakfast at State Fare, and a few other additions are in the swirl).