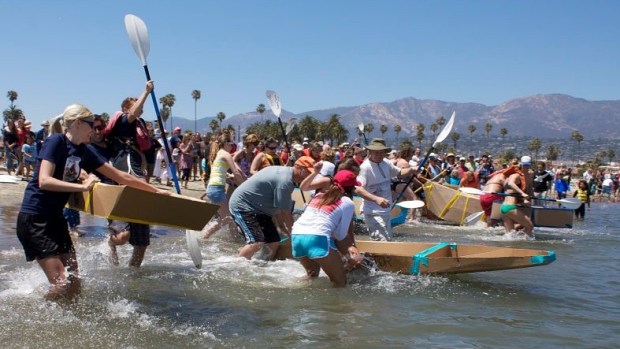 Santa Barbara Maritime Museum
The Santa Barbara Maritime Museum's Kardboard Kayak Race gets seaworthy -- um, mostly -- on Saturday, July 13.
BEYOND THE TISSUE BOX: So remember bored Saturdays when you were a kid? When your parents would hand you an empty tissue box and some pipe cleaners with the recommendation that you make something? And you'd very often make a boat, because a tissue box usually has an excellent, convincing boat shape and pipe cleaners, paired with a tissue, make a respectable sail and mast. But, and it is a rather pronounced but, your tissue box? Not so seaworthy (or sinkworthy or bathtubworthy, is more accurate, for a tissue box boat). Tissue box cardboard tends to get damp -- spoiler alert -- and soggy and pfft! Your boat is sunk. Does this mean you shouldn't attempt a cardboard boat again, as an adult? Of course not. You should. Should you sail it out to Catalina or the Channel Island? No. Should you join the Kardboard Kayak Race in Santa Barbara, where you build, from scratch, a cardboard boat and attempt to sail it to a not-so-distant buoy? Oh, definitely, especially if you like a lot of laughs and don't mind getting really wet.
THE DATE AND DETAILS: The annual Santa Barbara Maritime Museum event will take to the water on Saturday, July 13. But before the water-taking commences, teams will be handed material -- two sheets of cardboard, a yardstick, some tape, something to cut with, and something to mark with -- and exactly 60 minutes to create a kayak. You totally didn't need an hour to make your tissue box boat when you were a kid, right? Didn't think so, so you probably got this. Teams can include four people and there's a Family Fun heat, too (we're thinking a photo of you and the fam in your water-logged boat would make a fine holiday card). It's so cute and building a boat and sailing it, right then and there, is something of a beloved California tradition (see the Fisherman's Festival in Bodega Bay). So, are you ready to sail some cardboard, seafarers? May the wind be at your back, and may you not get too soaked too fast.