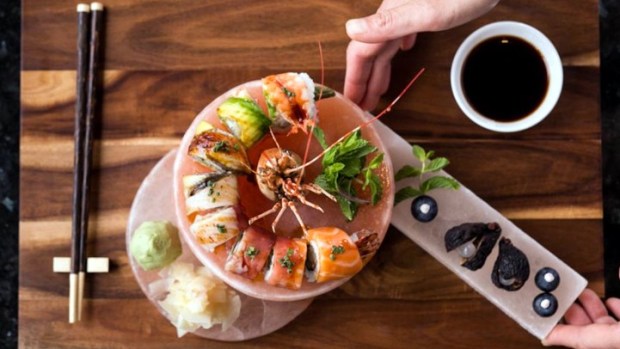 epicure.sb
epicure.sb is Santa Barbara's month-long spotlight on local chefs, restaurants, and dishes; it's happening all October.
TRIPLE THREAT: California is the land of bounty, home to America's Salad Bowl, and a place of plenty; it does, in fact, boast a number of catchy handles that pay tribute to the fact that a lot of tasty veg and fruits grow all year long in our state. But some regions seem to be extra lucky in the location-air-soil-sunshine department. For example, there is Santa Barbara, which is both nestled against both the Santa Ynez wine country and the Pacific Ocean. Meaning? Not only do citrus and avocados and all the yummy tree things grow, but wine and seafood play a major roll in the American Riviera local's diet. (And, by the way, "nestled"? No place seems to own that travel-brochure-y word like Santa Barbara, which is truly nestled up against those picturesque hills.) Meaning? Once a year the city takes a month to fete its farmers market freshness and accoladed chefs and all of those fruits and wines and seafood dishes that are just a way of everyday eating 'round those parts. The event's name? epicure.sb.
OCTOBER 1-31: Once again epicure.sb is taking over the entire month of October for rooftop wine tastings and adventures on the city's Urban Wine Trail and the famous Avocado Festival in Carpinteria. The Harbor & Seafood Festival falls at just about the midway point -- Saturday, Oct. 13 -- while Goleta's Lemon Festival spreads over both days of that particular weekend. There's also an Eat Local Challenge which other cities might be inspired by; residents are being asked to put the focus on foods from the region. It's a big, delish month with a lot of parts, like a grand feast. But, of course, if you can't make it? Santa Barbara's open all year long, and we hear they keep plate-based goodness going.