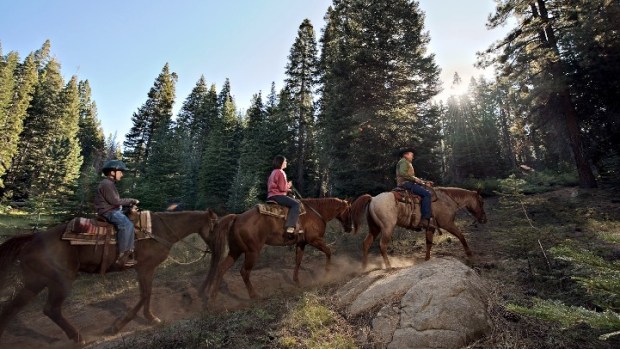 Wuksachi Lodge
Ride through the sequoias on the Wuksachi Lodge Horseback Riding Package. It's on through Sunday, Oct. 7.
APPROACHING THE BIG TREES: Have you been to the sequoias? And do you say "the sequoias" or do you go with the more formal "Sequoia and Kings Canyon National Parks"? We'll wager you generally choose the former, which is more familiar. And while we do love properly saying the names of our national parks, we like when people get so cozy with what those national parks contain that we simply refer to the areas by their most famous denizens. So, the sequoias. If you've been, we're curious as to how you approached the trees. Oh, after you parked your car and went on foot, or after you left your shuttle. Did you walk up to the General Sherman? Likely. But how many sequoia fans out there have clip-clopped by their favorite trees, while on horseback? Far fewer, probably. And what an interesting experience. It's a new perspective on a favorite area, and the Wuksachi Lodge has a warm-weather package on that helps make it possible.
AND IT IS CALLED... The Horseback Riding Package, so that is a snap to remember. Guests get a stay-over at the lodge, a box lunch, and a "guided...horseback riding experience" for two people. Oh, and kids? They can also enjoy the package, if they are age 8 and up. It's on through Oct. 7, but we recommend doing it sooner or later, given the fact that snow can fall in early autumn and disrupt horsey outings. The price kicks off at $275. For more on saddling up for the sequoias, and the other great summertime packages, give an eye-over at the Wuksachi site.