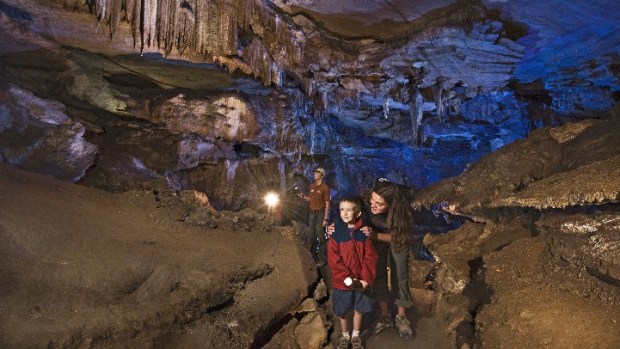 Wuksachi Lodge
The Crystal Cave in Sequoia National Park is open during the summer.
TREES PLUS: We're certainly not looking to pull focus when it comes to the famous denizens of Sequoia National Park (but pulling focus is pretty much out of the question anyway, given that they're some of the largest living things on the planet). But the park is also home to Crystal Cave, a stalactite-y, slightly surreal world of subterranean awesomeness. The cave is only open to visitors during the summer; even early May and late September get a bit dicey, what with weather and such, so June through August is truly the window you want to aim for.
CRYSTAL CLEAR: There are a few to-knows with Crystal. There's a hike down to it once you park, and the path is described as "steep." You'll also want to arrive with jacket or cover-up, as it stays chilly amongst all of those underground rocks. And you'll need tickets from one of the visitors centers (Lodgepole or Foothills) beforehand. The tucked-away cave is described as marble, which further stokes our cave-loving imagination. Yours, too, we bet.