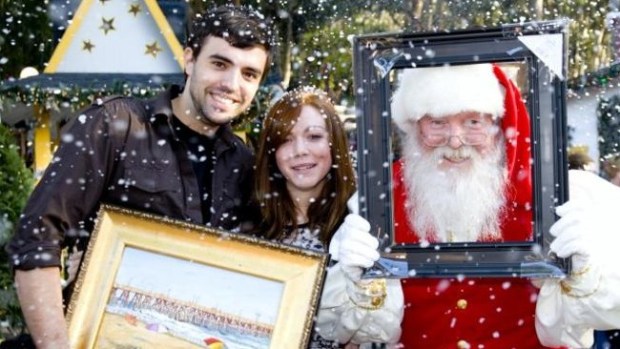 Sawdust Winter Fantasy
Sawdust Winter Fantasy opens in Laguna Beach on Saturday, Nov. 19.
TINSELLY TO-DO: The fact is you'll probably do some holiday shopping this year. We're assuming here. Maybe you won't. Maybe you're saving money or making your gifts, and if that is the case, we tip our hat (we also love scarves in blue and green). But if you do plan to be out in the crowds, picking up baubles for your nearest/dearest, we'd like to recommend two things. One? Surprise your loved ones with at least one arty, one-of-a-kind gift, even if the bulk of what they get is packaged underwear and socks (those are necessary for sure). And two? Make shopping a pleasure. That's probably our favorite thing about the annual Sawdust Winter Festival in Laguna Beach. We adore the art and sculpture and jewelry, but simply being inside that charming Laguna Beach cottage compound is like standing inside the holiday itself.
SANTA TO SONGS: The festival, which is the seasonal companion to the big summertime show, features several touches that are much associated with the end of the year. The Man in Red puts in a few cameos. Live music will likely be of the carol-ish sort. If you see a swag of greenery here and there, don't be shocked. Festive. It all makes for a pleasant, heart-gladdening shopping experience. The fest is on for four weekends starting on Saturday, Nov. 19, and tickets are $6 (adult). If you're hosting relatives for Thanksgiving week, this is a fine way to spend a few hours. And then you're in Laguna Beach, which is a fine way to spend any stretch of time at all.