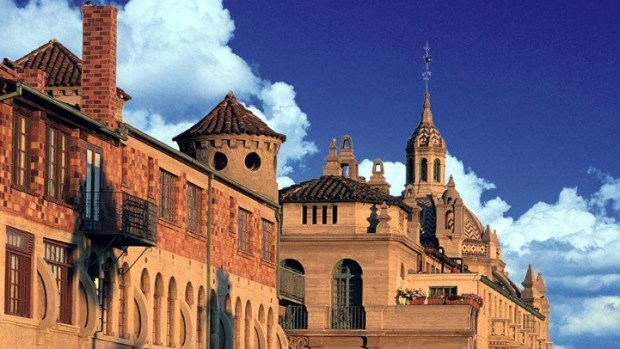 Mission Inn
Get to the Mission Inn on Saturday, May 12 for a special Miss Manners Mother's Day tea.
CASTLE GETAWAY: Are you the kind of daughter who likes to take over the couch with mom, devouring romantic miniseries filmed in far-off locales that are plum full of towering spires and whimsical palaces? Have you been wanting to whisk your special lady away to one of these places, one day, as a special thank you for all she does? But, for numerous reasons, that just isn't possible at the moment? Never fear, dear heart. There is a castle that's fairly close, or a castle-like hotel, and it is in Riverside. We speak of the Mission Inn, of course, and we were pleased and not at all surprised to learn that the historic hotel is putting together a Mother's Day Eve tea. That's Saturday, May 12, and the goodies surrounding it are plentiful.
COOKIES AND CARRIAGES: Our eye first landed on the post-tea carriage ride through downtown Riverside, but of course we like the idea of the tea itself. It will be chockful of sweets and hot beverages, yes, and a few lessons on etiquette, too; a "one-hour session" with Miss Manners Charm School is part of the day. It's a downright frilly, fancy day out for moms and daughters of any age. There are two afternoon seatings and the cost is $45 per person. Also, a side note? We're loving all the Saturday Mother's Day events we're seeing this year. It's a trend that's here to stay, and that's a good thing; Sundays tend to get brunchy or barbecue-y, so why not spread out the love for Mom and start feting her on the Saturday just before?