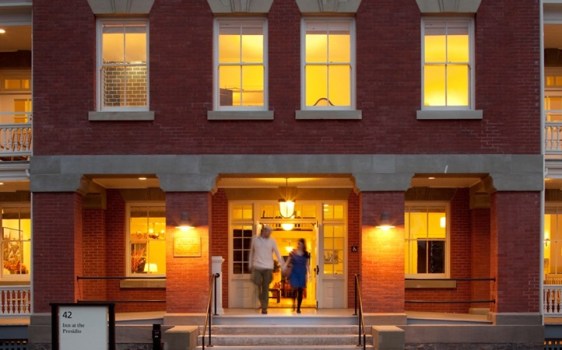 Inn at the Presidio
The gorgeous and historic Inn at the Presidio will gain the equally historic Funston House this spring. Four new rooms will be added to the Inn's existing twenty two.
GOLDEN GATE GETAWAY: It's hard to describe the beauty of the Presidio of San Francisco without turning to mushy words and softly spoken phrases and perhaps, perhaps, a tear in one's eye. Think we're going too far? You've been to the Presidio on a perfect May or September day, right? And, it seems, travel writers are nearly obligated to use the word "nestled" when describing it, seeing as how the swath of greenery and former military buildings is nestled against the San Francisco Bay, the Golden Gate Bridge, and the city itself. (We tried, we really did, to think up another term but our fingers just wanted to type "nestled.") The impressively vast slice of nature and history is one of the visual hallmarks of San Francisco, and an historic hallmark, too. Which made the 2012 opening of the Inn at the Presidio, the first hotel to debut in the national park, rather meaningful. Now things are set to get meaningful again with the opening of Funston House at the Presidio in May.
MEET FUNSTON HOUSE: Like the Inn, Funston House has many stories to tell. It was built along with several other homes for officers and their families in the Presidio in 1862. The name? It's from Funston Avenue. The number of rooms? Four, making it notably smaller -- or cozier, if you prefer -- than the nearby Inn at the Presidio. Up-to-date furnishings and historic photos and touches will give the Funston House its look (it's being designed by the same team behind the Inn). Also of interest? The four rooms will be available for individual books at $195-$245 a night or you can get all four rooms for a grand per night. A family reunion, given that it once was a family home? The Presidio would make quite the grand setting. And figure there's plenty of room for long strolls in one of the prettiest places to be nestled against any major city on earth. Scratch that. The Presidio is one of the prettiest places on earth, and, yes, it's pretty dang nestled, too.