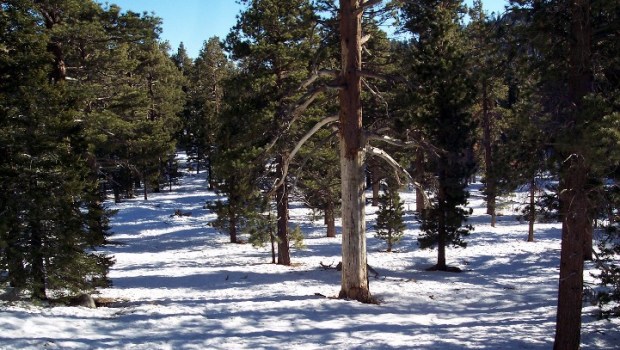 PS Aerial Tramway
A look back at a past snowfall above the Palm Springs Tram; the first snow of the 2011 season was on Friday, Nov. 4.
EIGHT WINNERS: Usually when a contest ends there are some disappointed people. Yeah, we're talking about the people who didn't get picked, or didn't guess right, or didn't enter in time. But even the people who didn't win the annual Snow-Guessing Contest at the Palm Springs Aerial Tramway have to feel like they won, at least a little bit. Well, if they're fans of the cold, white stuff. The contest, which kicked off on Oct. 1, asked tram fans to guess when an inch of snow would fall at Mountain Station. That happened on Friday, Nov. 4 -- it was actually closer to two inches, at last report -- and an octet of correct-guessers will now get tram tickets. But even those who aren't getting free tickets can now welcome a season of snowy trips up the mountain. Yep, we're already thinking of drinking cocoa in Idylwild. Is that your happy winter daydream place, too? Let's share.
ALSO AT THE TRAM: They're doing it up for Thanksgiving on the mountain; two different choices, one cafeteria-style and one buffet, are available. And if you happen to be in Palm Springs over the Nov. 5-6, note that it is pride time in town. No snow is predicted for Palm Canyon Drive, of course, but bet you'll see some on San Jacinto.