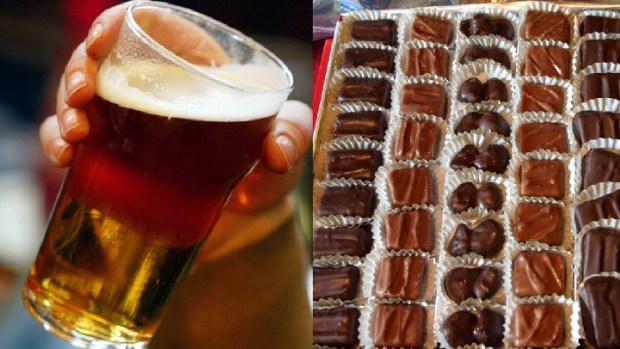 Beer and Chocolate
Enjoy beer and chocolate at the Omni San Diego on Valentine's Day 2012.
FEB FOURTEEN FAB: We're forever on the lookout for the unusual Valentine's happening. The whole roses-and-a-movie route? Love it, we do, but sometimes we want to have a swig of a hefty lager followed by something filled with sea salt and caramel. Did you just doubletake? Or did that sound extremely tasty to you? If you fall in the latter category, and we hope you do, culinary adventurer, may we recommend that you be at the Omni San Diego on Tuesday, Feb. 14 for a grand beer and chocolate tasting.
BEHIND THE TABLES: Karl Strauss Brewery and Chuao Chocolatier are the companies providing the foam and cocoa-beanage. Cost is twenty bucks a person and, it being Valentine's Day, the dress code is "festive." (We're thinking red dress and red tux; those are just hanging in the closet, right?) Two things to commend here: One, the unusual match-up. Wine and chocolate are old pals, and definitely work well together, but beer only ever seems to get trotted out with the pizza. And two? The Omni'll give a portion of the night's take to the San Diego Art Institute. Discuss that as you down your suds and sweets. Reserve at 619-645-6524.