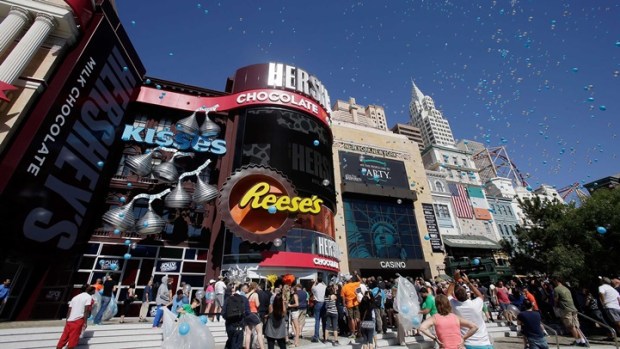 Hershey's Chocolate World
Hershey's Chocolate World debuted at New York-New York Hotel & Casino on the Las Vegas Strip on Tuesday, June 3.
UNSUBTLY SWEET: Count on Sin City to go large-and-in-charge-y when it comes to its newest headlining addition. Nope, it isn't a hotel tower, nor a fountain, but it does include a 74-foot-tall chocolate bar "that visitors can walk through." Did you just picture a classic Hershey's treat? Yep, that's very often the go-to candy bar when people are trying to visualize something rectangular and delicious. And your visualization is right on the delicious money: The mega walk-through is from Hershey's, which just opened its West Coast flagship store in Las Vegas on Tuesday, June 3. Hershey's Chocolate World is the name, the 13,000-square-foot location is The Strip -- bet you guessed that -- and it is a part of New York-New York Hotel and Casino (again, this makes sense, as Hershey, Pennsylvania is not too far a drive from the Big Apple).
THIS MEANS... that there are some classic New York icons now done up in chocolate at the mega attraction. The Statue of Liberty, for one, which is "made of almost 800 lbs. of pure Hershey's Milk Chocolate" and the 1,800-bar Empire State Building. A milk chocolate skyscraper sounds very Vegas to us, given that the city is forever on the search for the next headline-making foodie-fun dish. The all-candy building is just for viewing, and taking many, many snapshots of, but Hershey's Chocolate World is also a store, meaning you can stock up on Jolly Ranchers, Twizzlers, and, yes, silver-shimmery Kisses while visiting. Aren't Kisses kind of the perfect Vegas food? Throw a few in your pocket -- not the pocket with your slot machine quarters -- and eat 'em as the night pushes into the wee smalls of the morning. For all the flavorful to-dos and buys, head over to the sweetest spot on The Strip.