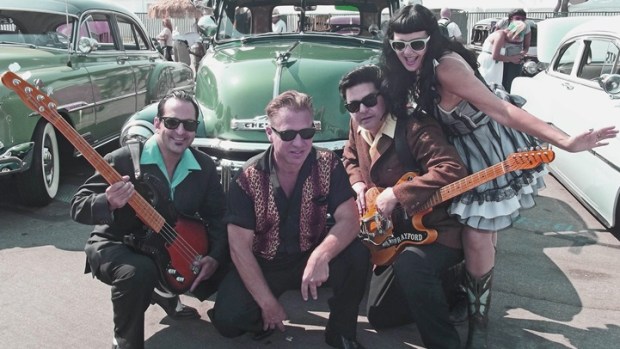 Orange County Marketplace
Vintage vibes'll sound in Costa Mesa over the final weekend of April. Why? It's the West Coast Rockabilly Showdown.
SUNNIER SOUNDS: One can pursue the rockabilly arts all year long, but warmer days, and evenings, seem to belong to the retro-swooped style and sound aesthetic. Maybe its the idea of old-school cars lined up for a hot night cruise down a main street, with Johnny Cash or other icons of the genre playing from the cars' radios (all set the AM, of course), or perhaps the toastier time of year is prime for the sunglasses-Bettie Page bangs-halter dress look. This all leads to one happy thing, for people who dig their alt-country and country-punk and all matters rockabillian: Two mondo events devoted to the genre pop up in Southern California and the lower Central Coast in the springtime. One comes very late in the spring, just days ahead of the summer's start: The Roadshow Revival, which will again spread out over the Ventura Fairgrounds on the Saturday before Father's Day (think cars, cars, cars and a lot of musicale-type love for Mr. Cash). But one that hauls in the bass cases, chunky boots, and perfectly rolled/creased jeans weeks ahead of that? It's the West Coast Rockabilly Showdown, which'll line up the amps in Costa Mesa over the last weekend in April.
8 BANDS ON STAGE: An octet of outfits'll go guitar neck to guitar neck for prizes and cash adding up to three grand. Favorites of the genre will rock -- hello, James Intveld, who will also play The Roadshow Revival -- and pre-1965 cars and trucks'll go up for the glory in a car show. Oh yeah, and there's a Pabst Blue Ribbon art contest. Plus? Fashion'll be out in force, which is so much a part of the rockabilly scene. Think over-sized hair flowers, parasols, cowboy hats, muscle tees, and such. A nice time on a spring weekend if you like your tunes hot, old-school-y, and rife with feet-moving beats. For sure, rockabilly exists throughout the year, but 'round these parts? Spring is its season to turn it up.