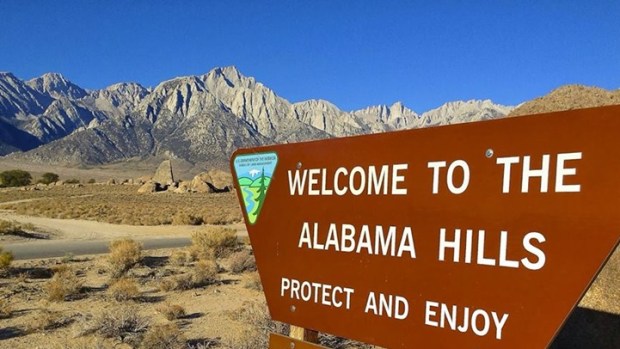 Lone Pine Film Festival
Call it a true marriage of place and film: The Lone Pine Film Festival, near the Alabama Hills, is all about the Western. Trot for the town from Oct. 10 through 12, 2014.
TEN-GALLON WEEKEND: While director John Ford is very much associated with the cinematic expanses of Monument Valley, and a number of films have landed in spots like White Sands in New Mexico and Arizona's Sonoran Desert, California has its own entry in the Western movie mythology-making: the Alabama Hills and Lone Pine. Indeed, the glorious spot -- and "glorious" is not a word used lightly here -- has shown up as a craggy, epic, and highly distinctive background in hundreds of films, from "Gunga Din" to "Bad Day at Black Rock" to various iterations of the Lone Ranger. It's true that the Eastern Sierra-close spread of low hills has occasionally been seen in a non-traditional non-Western Western (think "Tremors") but saddle cinema has absolutely dominated the area. And Lone Pine, the snug and historic town straddling Highway 395, celebrates its movie past each year with an autumn celebration of Westerns, movie stars, and those picturesque Alabama Hills. The dates are set for 2014, so pencil in Oct. 10-12, buckaroos.
ON THE FESTIVAL SCHEDULE: It's year 25 for the Western-sweet party, meaning a lot of movie types'll be out for the big Silver Anniversary. Bruce Boxleitner, Donna Martell, and Johnny Crawford are three of the thespian guests, and special effects experts, authors, and stunt people will also make appearances. And "12 exciting location tours" shall go down throughout the weekend. Did we actually mean "go down" there? We meant head into the epic Alabama Hills and nearby environs. It's really one of the Golden State's most singular landscapes, one that early directors made known the world over via vintage Westerns. And it still looks pretty much the same, back in those hills, as it did when the first cinema cowpokes clip-clopped in nearly a century ago. Westerns lovers and those who adore the Eastern Sierra? Better saddle up for the second weekend in October.