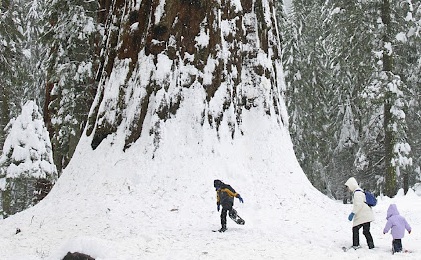 Wuksachi Lodge
Fewer crowds and more snow-crunching: That's wintertime in Sequoia and Kings Canyon National Parks.
SILENT GIANTS: It used to be, back in the day (so, for this example, let's say the 1970s) that the "secret season" of the national parks was wintertime. The caravans were gone, and most of the big buses, and a person could commune with nature without standing in a queue to do so. But pretty much everyone knows that now, so touting any wildly beautiful getaway in the colder months as something secret isn't quite honest. What is honest is that summer is still busier at places like Sequoia and Kings Canyon National Parks, and the snowy stretch does garner visitors but certainly not in the numbers of the hotter months.
WINTER ACTIVITIES: Adding to that temptation to visit is the fact that the parks do not shut down in any way during December through March; on the contrary, tree treks, snowshoe outings, and packages that come complete with peppermint Schnapps are all on the roster. That last goodie is part of the Wuksachi Lodge's Sweet Treat Package, but if you don't have a yen for sugar you can opt for the Winter Adventure Deluxe Package, which comes with snowshoe rental among its features.
BEING WITH THE TREES: But you don't need to have a lot of add-ons with your stay. Just being among the largest living things on the planet is enough. We certainly can't predict if you'll have your alone moment with the General Sherman or the General Grant alone, but when we visited on a winter weekday a few years back, we spent a few minutes, sans another human, at the landmark trees. That certainly isn't the case in summertime. Solitude lovers? Your moment up the mountain has arrived. (But one suggestion: Look into weather, and snow chains, before you go.)