Doctor Sentenced for Writing Prescriptions in Starbucks
Alvin Mingczech Yee met patients at Starbucks to write phony prescriptions.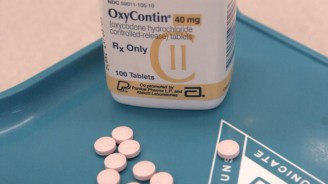 Getty Images
Alvin Mingczech Yee wrote prescriptions for drugs like these in several Orange County Starbucks stores.
A Mission Viejo doctor who admitted to illegally prescribing painkillers to people he barely examined was sentenced to more than 11 years in federal prison Thursday.
Alvin Mingczech Yee, 44, met his "patients" in Starbucks stores across Orange County to write prescriptions for drugs like oxycodone and alprazolam, the U.S. Attorney's Office said in a news release.
Those drugs are best known by brand names such as OxyContin, Vicodin and Xanax.
Yee pleaded guilty to seven counts of illegal distribution of a controlled substance by a practitioner after three undercover agents posing as patients caught him in the act, according to court documents.
A judge sentenced Yee to 135 months in prison.
More Southern California Stories: