Hero Dogs, Celeb Pups, and Wiggle-Wagglers
A quartet of hound-happy fundraisers are off-leash and on approach.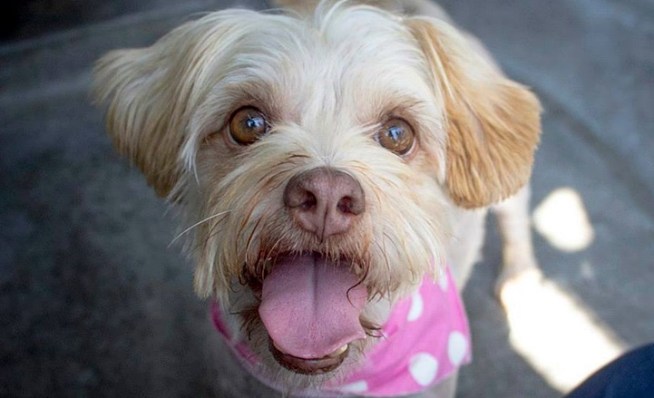 Pasadena Humane Society
Support cuties like this girl and the Pasadena Humane Society and other shelters at the Wiggle Waggle Walk. The Brookside Park fund-raiser gets moving on Sunday, Sept. 29.
If you live with animals, you know that every week belongs to them and what they need and the love and care you can give them. Period. Yes? Truth.
But sometimes a few days come along that are somehow extra Fido-riffic -- you don't need to look that up in the dog dictionary, because you surely know that it symbolizes -- and for that all pet-mad people may be glad, especially when fund-raising for animal care is involved.
Where around Southern California will you go to help the furry ones over the next week? How about...
Wag 'N Walk: It's year 18 for this Seal Beach barker bash, which sets people and their hounds out for a water-close stroll at the pier. Pet adoptions, a raffles, silent auctions, and more give-back type to-dos are part of the day. Saturday, Sept. 28
Actors and Others for Animals Luncheon: Fred Willard and Jim Piddock will revive their funny-funny "Best in Show" judges for a money-raiser at the Universal Hilton. And what will they be commenting on? Photos of celebrity-owned pets. You're pre-laughing, right? Saturday, Sept. 28
Wiggle Waggle Walk: A pretty fall day at Brookside Park in Pasadena? Yes, please. With a bunch of pups and their people? Even better. The Pasadena Humane Society and SPCA fundraiser is all about lending support to local animals living in shelters. Sunday, Sept. 29
Hero Dog Awards: So many pooches help so many people in so many ways, and American Humane pauses every year to give out props and accolades. The Beverly Hilton night is swanky and starry, but come with a hankie -- you'll need it after a few of the tales told. Saturday, Oct. 5