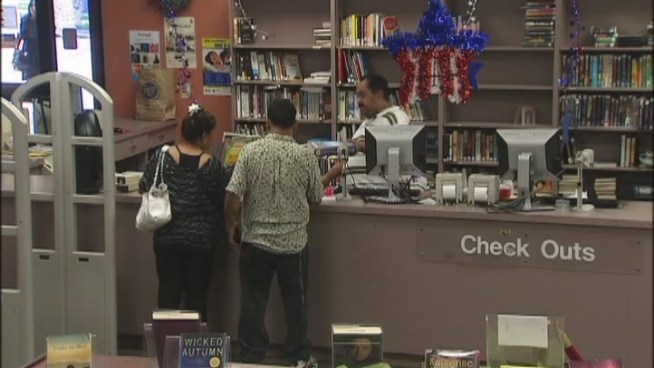 James Wulff, KNBC
San Bernardino librarians fear cuts in wake of city-proposed bankruptcy. They talk on Wednesday, July 11, 2012 about their concerns.
City workers in San Bernardino are worried about their future after the city proposed bankruptcy earlier this week.
Librarians at the San Bernardino public library recently spoke to NBC4 about how this move could affect them.
After city leaders met Tuesday night to discuss the city's future and financial problems,library Ciculation Manager Debra Bemben said she was filled with anxiety.
"We've been all knotted up inside for months and its not any better after last night, except there is news. But, we don't know what's going to happen," Bemben said.
Library Assistant Andrea Zuniga says city job cuts would hurt her family because her husband also works for the city.
"That's two incomes that will be affected by whatever happens," Zuniga said.
The librarians say this is a particularly frustrating time because circulation has increased the last several months because of expanded programs. So it's been getting busier at the library, which sees patrons from cities outside San Bernardino's boundaries.
"It's an essential service in this community. There are a number of people, not just here, but all over, who come to this library, " Literacy Coordinator Paula Miller said.
Follow NBCLA for the latest LA news, events and entertainment: iPhone/iPad App | Facebook | Twitter | Google+ | Instagram | RSS | Text Alerts | Email Alerts