Student With Ammunition Caught at Baldwin Park High School
The school district had initially said the student was in possession of a gun and had been arrested, but later retracted that statement.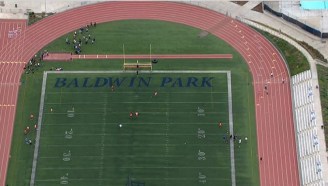 Soccer players use Baldwin Park High School's football field at 4:45 p.m. on Jan. 23, 2013. Hours earlier, police responded to the school after receiving a tip that a student had a weapon on campus.
An investigation is under way after a student apparently brought a loaded 14-caliber magazine to Baldwin Park High School on Wednesday, according to Baldwin Park Unified School District police.
Earlier in the day, district police said a student with a gun was arrested, but hours later said that no weapons were found on campus. They would not say what disciplinary actions, if any, were taken against the student.
An anonymous tipster called the school about 12:40 p.m. saying a 15-year-old boy had a gun on campus, said Capt. Jill Poe with Baldwin Park Unified School District police. Police and school administrators found a student in possession of a 14-caliber magazine containing 10 rounds of ammunition, but no gun.
Poe said "consensual search" of the boy's home turned up a 40-caliber unloaded handgun.
"We understand that in light of recent situations, safety is of the upmost importance to everyone and BPUSD will take additional measure to ensure the safety of a students and staff," Poe said. "Again, no weapons were found at Baldwin Hills High School."
On Wednesdays, classes at Baldwin Park High School start at 8:50 a.m., an hour later than every other day to accomodate a teacher/staff meeting, according to the school's website. Classes let out at 3 p.m. on Wednesday.
The school is located at 3900 N. Puente Avenue in Baldwin Park (map). Aerial footage of the school showed an empty campus at 4:45 p.m.