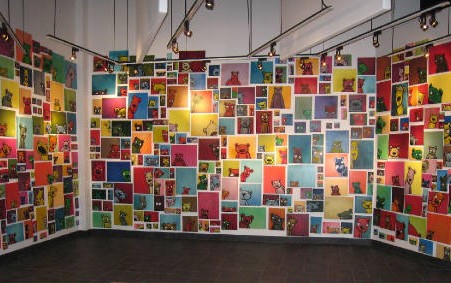 1000 TEDDIES: This eye-popper of an installation has already wowed Europe (does Europe have a teddy bear thing that we don't know about?) and is currently holding Los Angeles in its thrall from its current HQ: the Coldsprings Fine Art gallery downtown.
Artist Philipp Jordan has gained fame in the urban art community; the painter obviously has an affection for graphics, color and, last but not least, the teddy bear. Like, serious attachment. We do too, or did when we were 8, but looking into the sweet, fluffy faces of his brigade of bears makes us just want to pile up the bedspread with these cuddly-wuddly cuties. We think?

215 W. Third Street, Los Angeles.
Plus:
WEREWOLF GALLERY SHOWING: There's a beverage-laden to-do on Saturday, January 31. Not sure if bites will be offered, but if there are, let's hope they come from a buffet table and not any hairy hosts. Is there a full moon this weekend? Tread carefully if so.

And come ready to see some intense, elegant imagery that lycanthropes and non-lycanthropes alike might enjoy.

Hangar 1018, 1018 S. Santa Fe Avenue, Los Angeles.
AT THE LAKE: Strange and surreal and oddly lit and lush. We're loving Amy Bennett's "At the Lake" series, on now at the Richard Heller Gallery at Bergamot Station. Check 'em out here and see if they don't send you into some sort of vacation-y dreamland that's only a bit unsettling.

2525 Michigan Avenue, B-5A, Santa Monica. 310-453-9191.
Copyright FREEL - NBC Local Media