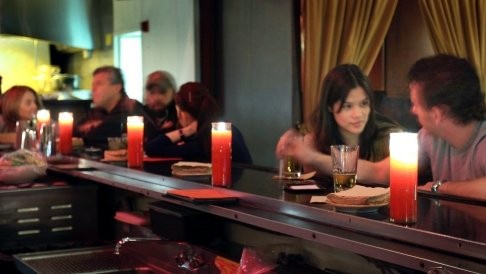 A cursory glance at Halloween-type stories over the last decade reveals one major trend: nearly every article begins by saying that the most haunted of holidays isn't just for kids anymore.
We're not sure it was ever strictly for children -- there are plenty of photos from the '20s and '30s of mature revelers in full, eye-masked costume -- but celebrating options continue to grow for the grown-up set. And while it may seem as if most of them revolve around haunted mazes, parades, and sexy costume events, there are a handful of bars and restaurants celebrating the spookiest of nights in a sophisticated way.
Luna Park will be open Halloween night. And while its colorful, chandeliered setting and memorable drinks -- think Scorpion Bowl and a riff on Dr. Pepper -- are plenty in line with the holiday, here's something further: wear a costume at dinner on Halloween and receive half-off the food part of your bill. This kicks off at 5:30 p.m. on Oct. 31, so you'll still have time to make that later party.
Cecconi's West Hollywood is throwing a Chocolate Cocktail Party on Halloween night. Compartes chocolates and posh sips are part of the scene, as is a knowledgeable chocolatier in the house, ready to discuss all things sweet. Cost is $30 at the door and "festive attire is encouraged." Please, of course, go fancy or outlandish.
Whiskey Blue at the W Hotel in Westwood has had several seasonal cocktails on the offer. Tempting us this Halloween? The Jack-O-Lantern -- Jack Daniels is an ingredient, yep yep -- the Candy Corn Martini, and Peaches and Scream.
Public Kitchen and Bar at the Hollywood Roosevelt is offering cookies and cakes that are, shall we say, rather anatomical; fingers and eyeballs are in the spooky mix.
And the LA Market inside the JW Marriott is upping its already over-the-top Junk Food Platter. Mummy cake pops and treats with gummy worms are on the eye-popping plate.
Copyright FREEL - NBC Local Media