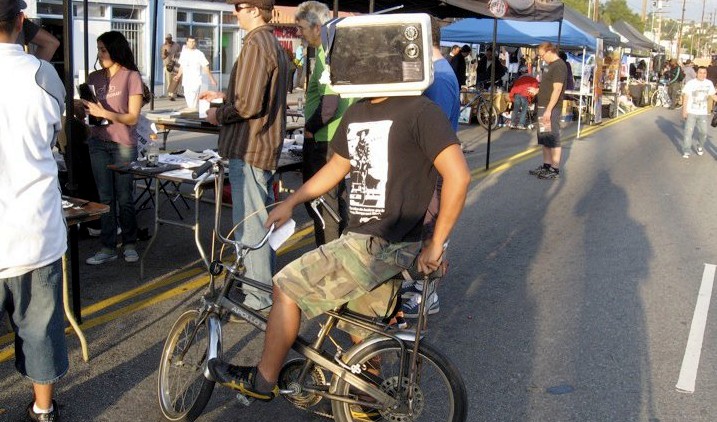 It may take years, or perhaps decades, for the rest of the country, and even the world, to shift its thinking about Los Angeles being solely about its window'd, four-wheel'd, vroom-vroom, highway-loving vehicles.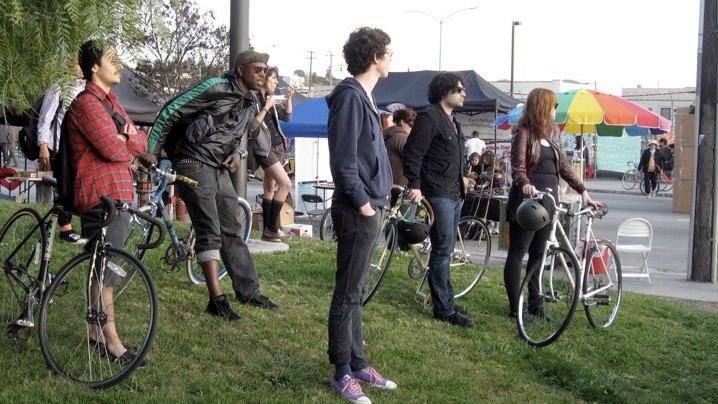 We here know differently, that good-sized, bike-oriented community events are popping up so regularly now they could nearly be called every-weekend happenings. Maybe its a ride hosted by the Santa Monica Museum of Art, focusing on music, performance, and art; maybe it is CicLAvia, which is due back in October. But wherever and whatever, people are turning out.
And if you have a bicycle, and you live in or support East Hollywood, you'll likely be at ArtCycle on Saturday, Sept. 8. Make for the Cahuenga Library, at Madison and Santa Monica, and stroll the booths, chat up people, and see art (we're hoping the guy with the monitor on his head, pictured above, returns; great costume). It's easy-breezy, it's free, it's neighborhood-nice, and, yep, it is about bikes, but if you don't ride, or don't have a bike, no sweat.
If you do have a bike, there's going to be some gallery rolling going on: Los Angeles Municipal Gallery, La Luz de Jesus, and more stops, like Sacred Fools, are planned. And yep, there's a bike valet.
So, everywhere else; are you convinced it isn't all about being locked in our cars yet, not talking and not socializing? Come out and ride around with us in East Hollywood and change your mind.
Follow NBCLA for the latest LA news, events and entertainment: iPhone/iPad App | Facebook; | Twitter; | Google+; | Instagram; | RSS; | Text Alerts | Email Alerts
Copyright FREEL - NBC Local Media