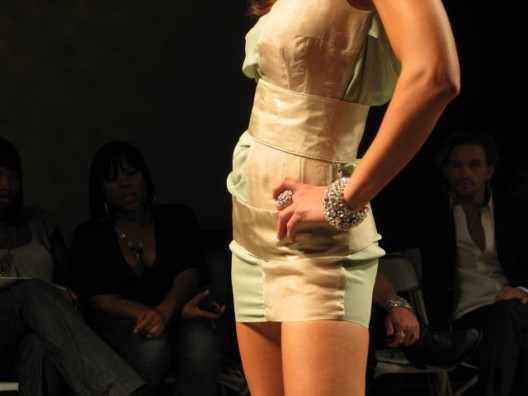 As compared to previous collections, Yotam Solomon went for full-out revealing for spring '09, with ample cut-out detailing and contrasting fabrics used at the sleeves and inset as panels. Unfortunately, the effect was a bit stripper Vegas wedding, in part due to problems with fit and construction. The designer also does the shoes, and there were problems with fit here, too, seen in his cage-like above-the-knee creations (which worked better for spring '08 as flat gladiators) and other heels; they were just too big, leaving models to claw with their toes to stay inside them. Function was also not a priority with sleeves that attached to the garment, so you literally would only have use of one arm.
That being said, we believe Solomon (barely out of his teens) has something in his exploration of texture, fabrication and cut-out work which came together more effectively in a strapless gown with cut-out tiers in pale green and (much better fitting ) silver-lined sandals of overlapping suede.
· LA Fashion Week [Racked Archives]For more stories from Racked LA, go to la.racked.com.
Copyright RACKL