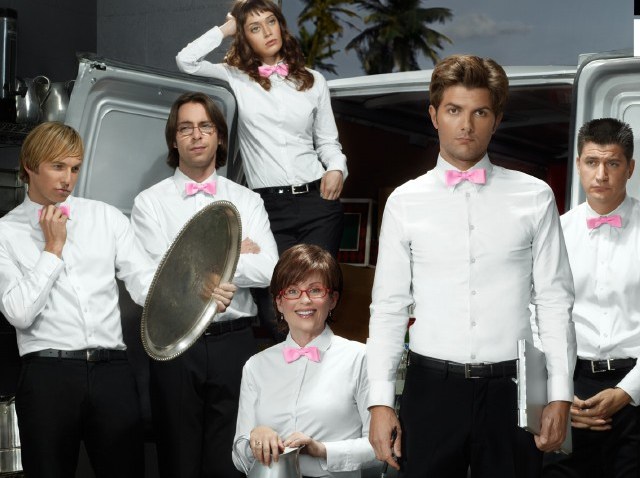 If you've ever been a creative type in Hollywood -- a hyphenated, wannabe anything -- you could always find at least 19 cringe-inducing moments in any given episode of the Starz series "Party Down."
You either recognized yourself, and your own often fruitless strivings, or the silly selfishnesses of those around you (and, on occasion, something good in those people, too). Now the co-creators and cast members of the two-season show are gathering at Cinefamily on Sunday, Dec. 12 for a "'Party Down' Memorial Service and Fun-draiser."
The "Fun-draiser" is for Cinefamily. We can only say you better pronounce it as such, emphasis on "Fun," the whole time you're at the Silent Movie Theatre. Those opportunities don't come along every day.
It is a full-on 12-hour party, noon to midnight, and some time during the day Ken Marino and Megan Mullally and Adam Scott and Martin Starr are all scheduled to show up and talk. Oh, and look who else is due: Lizzy Caplan, whom science will one day show is the person every aspiring screenwriter living in Los Angeles in 2010 had a sort-of-kind-of crush on. Mark our words.
Copyright FREEL - NBC Local Media