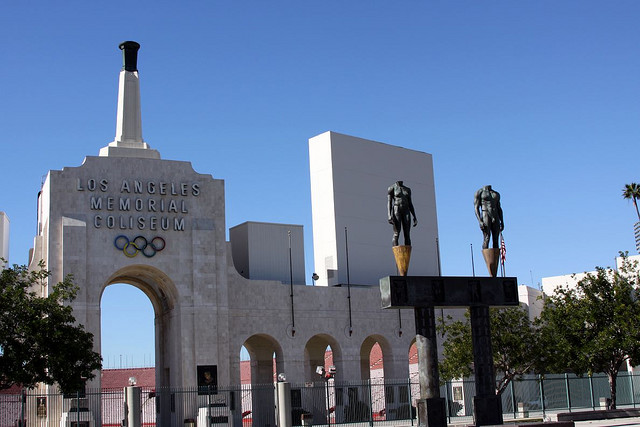 Welcome to The Ratchet, as in ratchet up the accountability in politics across California. It's Prop Zero's new weekly weigh-in from contributor Keith Esparros. Let us know what you think in the comments below.
Governor Jerry Brown's newly proposed budget takes aim at many of the usual suspects. He painted bullseyes on state boards and commissions, and proposed extending existing taxes.
But if you're the kind of person who enjoys a good government document read, you'll see past the obvious stuff, right there on page 119, a proposal to sell a historic Los Angeles landmark: The Los Angeles Coliseum.
The governor calls it an "underutilized" facility. Perhaps that's true, but she deserves a little more respect than that.
If the governor does get to hang out the "For Sale" sign, it'll be on an 88-year old L.A. house with quite a history.
Talk about "perfect for entertaining", how about the house that played host to two Olympic games, two Super Bowls (including the first one ever), and even an impromptu church where Pope John Paul II said mass.
It was at one time the premier starter home for the Rams, when they migrated west from Cleveland, the Raiders when they arrived here from Oakland, and of course the Dodgers upon their relocation from Brooklyn.
Even if the current owner is motivated to sell, a lot of questions remain. First, what is the old girl worth. The last figure we can find on that is $400 million, but that was a 2004 estimate.
And the next point might be stickier yet. The state owns the dirt under the stadium, but the owner of the actual stadium is a little fuzzier.
John Sandberg, an official with the Coliseum, says other governments, like the City of L.A., and Los Angeles County may claim they own part of the structure.
In Sandberg's words, "Who owns the stadium? Well that depends on which lawyer you ask."
If the city or county have no ownership questions, you can bet they'll demand the sale move slowly while they examine how a change in ownership could adversely affect them.
What remains to be be seen is what a new owner might do with the stadium. Changes and renovations would be tempting and likely warranted.
But in California we've often seen history fall victim to a facelift. We would hope any future plans for the Coliseum would respect its rich past.