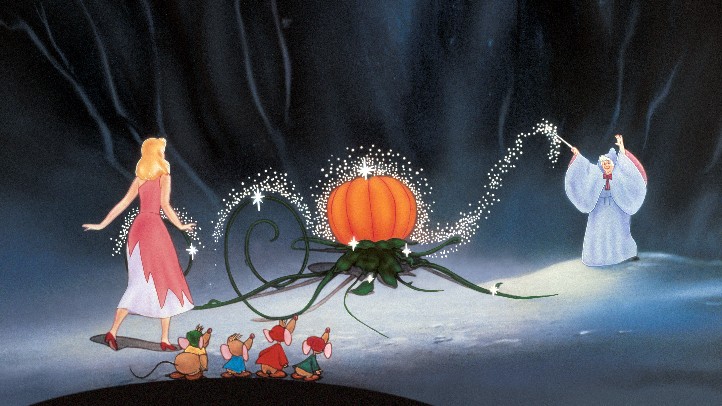 Fairy tale scholars could reasonably argue the case that any of the classic, centuries-old stories went on to beget several other tales with similar themes.
But "Cinderella" is kind of one of the proto-fairy tales, right? There's the plucky girl who needs a break. The kindly person who comes bearing magic. And the unfeeling relatives, the talking animal friends, the gourd-based transport, the gorgeous royal, the big castle, and the enchanted article of clothing fill it out further.
Likewise Disney's "Cinderella," which twirled into cinemas in 1950, is pretty much the proto-"Cinderella" film. Is it hard not to see the heroine in a light blue dress in your mind? That one-of-a-kind pumpkin carriage? Or good-natured Gus Gus? Oh, great cheese, we love that roly-poly little mouse.
Now the fairy tale movie to which nearly all later fairy tale movies owe so much is back on the big screen for a limited time. See it at the El Capitan on Hollywood Boulevard through Thursday, Aug. 30.
Like with all El Cap screenings, there are entertaining extras: Christian Louboutin will have a slipper on display at the theater, and Cinderella herself will cameo before each screening.
Now, if only we had a fleet of friendly birds who could help us put together our outfit for the day, we would be set. We don't even need the whole glass slipper thing. Just the helpful bluebirds to tell us what to wear.
Follow NBCLA for the latest LA news, events and entertainment: iPhone/iPad App | Facebook; | Twitter; | Google+; | Instagram; | RSS; | Text Alerts | Email Alerts
Copyright FREEL - NBC Local Media