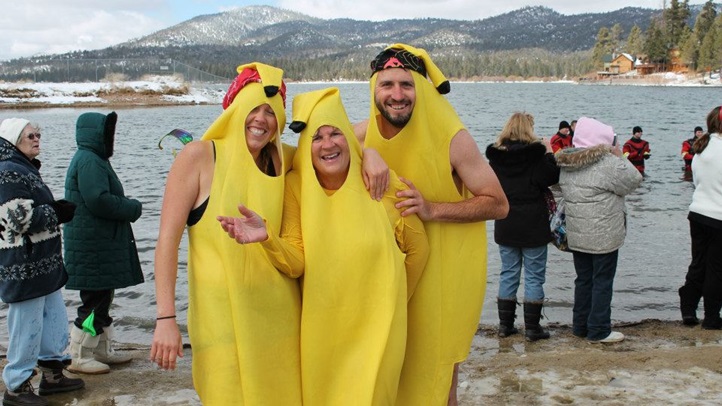 A BODY OF WATER... that sits an elevation of over 6,750 feet is going to have many moods. Come the summertime it often provides a source of refreshment, a place where warm people can take a dip after a bike ride or run. Fall and spring can give the lake a painterly glow, depending upon what the trees and flowers are doing, color-wise, at its banks. But wintertime? Hoo boy -- it's going to be frosty. The snow on the hills doesn't even need to telegraph that fact, for anyone can look at the still, sometimes steamy water and determine that the temperature is on the brrrr-y side. We're only setting this scene to get you super-pumped for the annual Polar Plunge at Big Bear Lake, which comes with the catchy title of "Freezin' for a Reason." That reason? Supporting an awesome beneficiary, Special Olympics of Southern California.
DONATE FIFTY BUCKS, or more, of course, and suit up to dash into the high-elevation lake on the first Saturday in March. That's March 5, and while you may "pshaw" the idea the water will be cold, given that early March is nearly springtime, stop your pshawing right there: It will be frosty, and that's a fact. But that's the fun part of it, too, to see bravehearts, people who don't mind some briefly frozen tootsies, jump into the wintertime waves. Not only jump but do so in a complete, and completely outlandish, costume.
CAN'T DO IT? Because cold water isn't your jam? You can give money to the plungees -- sorry, plungers, if you want to be 100% accurate -- or do some fundraising. There's always donating and stopping by the shoreline to watch, too. However you give, remember that you're helping the thousands of Special Olympics athletes who call our region home. That rocks, so go the distance into one of SoCal's highest, and, at times, frostiest lakes.
Copyright FREEL - NBC Local Media