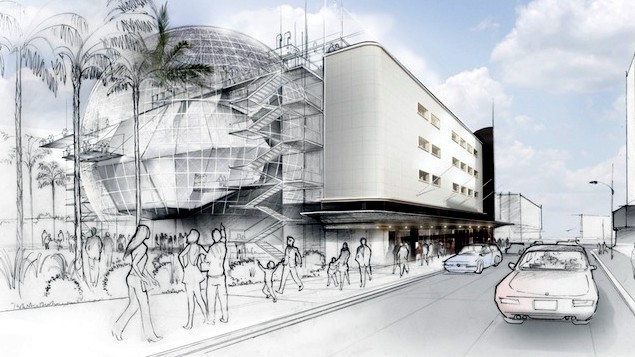 One can say with some confidence that 2012 will be the year that big arrived in Los Angeles.
Not that our large-and-in-charge city didn't already own the concept. But with multi-ton boulders and space shuttles rolling around our boulevards in recent days, we can't surmise anything less. We are a megalopolis that likes splash, likes size, and readily celebrates both.
Add to that the recently released illustrations of the new Academy Museum of Motion Pictures. Set to open in the historic May Company building on the northeast corner of Wilshire Boulevard and Fairfax Avenue in 2016, the Academy of Motion Picture Arts and Sciences-backed museum will be devoted to celebrating "the history and ongoing development of motion pictures." Meaning? Displays including costumes, theaters, educational venues, and more cinematic sweetness will be part of the nearly 300,000-square-foot space.
The institution recently met its first fundraising goal -- call it a cool $100 million of $250 million goal -- and the Academy released two illustrations of the May Company in its movie museum-ready form. The front of the building, fronting Wilshire? Very unchanged but revitalized. The back? Prepare yourself for something deeply whimsical and cinematic: a glass sphere of notable size will rise from the top and partially out of the back of the building.
This will be, of course, just steps from the boulder of Michael Heizer's "Levitated Mass," the most talked-about artwork to arrive in our city in, well. Decades? Ever?
So we have questions. Like does the boulder know that it is getting a large spherical neighbor on the May Company? Is that stretch of Los Angeles now the official corner of large and amazing things? We say yes.
Renzo Piano and Studio Pali Fekete are the creative visionaries behind the project. Let's also pause to laud the Los Angeles County Museum of Art, which is partnering with the Academy on this major undertaking.
Are we still loving that the Academy and LACMA are set to be roomies? We do. It's a charming pairing only rivaled by a certain boulder and a still-to-come glass sphere.
Follow NBCLA for the latest LA news, events and entertainment: iPhone/iPad App | Facebook; | Twitter; | Google+; | Instagram; | RSS; | Text Alerts | Email Alerts
Copyright FREEL - NBC Local Media