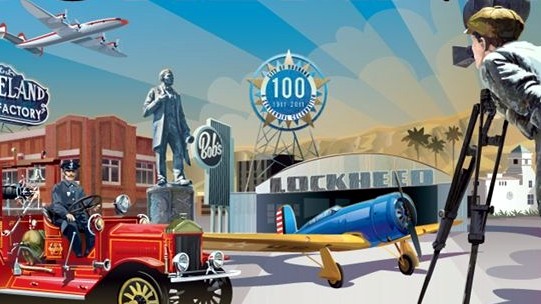 The phrase "Burbank hits 100" has been uttered before, and fairly often, in the past. But "Burbank hits 100" in reference to its centennial, and not the temperature, truly can only be said once.
That big day arrives on Friday, July 8, when a five-hour free celebration takes place in Downtown Burbank (yep, the city is calling it "The Party of the Century" and we won't quibble with that). Fireworks are part of the night, in case you missed your Fourth of July sky show, as is an air parade and food and Burbankian memorabilia for sale.
Two fun things of note. Mickey and Minnie (Mouse, natch) will be on-hand to present "one of the largest cupcake displays ever!" When we said "on-hand" there of course we mean on-big, white, oversized glove.
Wait. Do Mickey and Minnie have Burbank ties? Thinking. Thinking. Oh right. The city is only home to a whole clutch of world-famous studios. We'll also add we're happy to see Bob's get a prominent place on the event poster. That is as it should be.
And NBC4's own Fritz Coleman will be in the house, along with other special guests.
It'll be a big Burbanky kind of night, and everything gets going at 5 p.m. on July 8. Yep, the city has taken some gentle ribbing in the past -- we're thinking of "Beautiful Downtown Burbank" and the fact that founder David Burbank* was a dentist -- but let's look at the facts. Downtown Burbank is pretty nice, comedic jabs aside, and certainly is walkable in a way a lot of places are not.
And dentists? So needed. So thanks, Mr. Burbank, for getting the Media Capital of the World going over a century ago. The world thanks you, too, because many beloved things were born in Burbank.
Oh, and what's this, Dr. Burbank? You tweet? Well over a century later? Well I'll be.
*Not Luther, as mentioned before. Thanks Randy Karman!
Copyright FREEL - NBC Local Media