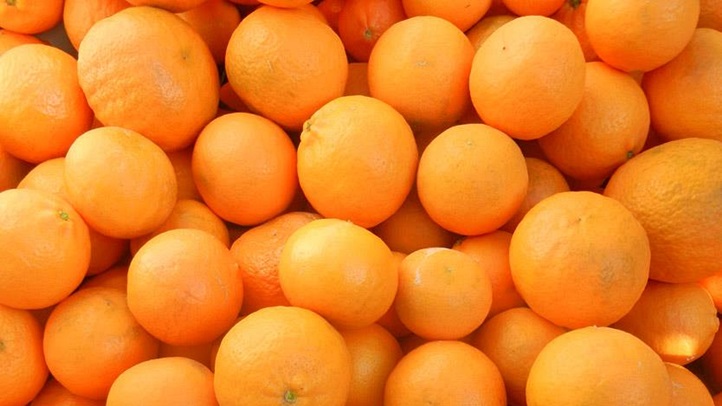 THERE WAS A GOOD REASON... that bountiful citrus baskets and bowls so often appeared in early advertising for the Golden State. Oranges and California were nearly synonymous in many minds, as the fruit represented clean living, fresh air, and, yes, sunshine, too. (It's hard not to see the globe-like sun in a perfectly orb-sweet orange.) And while, spoiler alert, citrus is available in most places for most of the year, that romantic idea of a heaping box of oranges or tangerines or similar from the West Coast still lingers on. It was too powerful for too many years to have totally left popular culture.
WHICH MEANS... a lot of our local ranches and growers are busy preparing fruit boxes for the holidays. Friend's Ranches in Ojai is doing just that, putting together boxes that have cute names like The January Bounty and Plain Jane. Please. If you've ever weathered a beginning-of-the-year-snowstorm in a northerly clime, you know something called "The January Bounty," something that's filled with tangerines and California sweetness, is going to cheer (and maybe make you slightly envious, too, of warmer days in Southern and Central California).
START-OF-THE-YEAR CITRUS STROLLS: The ranch's January Bounty also brings to mind that tours of the groves start up each January. Want to see how citrus is cared for, how trees are planted, and the day-to-day running of a fruit ranch? The longtime Ojai fruit favorite is an excellent place to start.
MORE FRUIT GOODNESS: Looking for another local purveyor of fruity goodness, but something a little different than whole citrus? E. Waldo Ward of Sierra Madre has been doing jams and jars of spreadable eats for a good long time. (Good long time=over a century.) In fact, your choices for finding a place in which to order some version of California fruit are plentiful. Guess all of those early ads selling people on our sunny state were right on the money.
Copyright FREEL - NBC Local Media