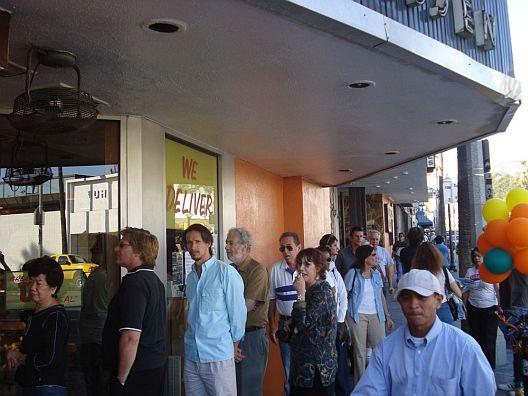 Lining up this afternoon via B-Side Blog
Per our earlier report, lines for Canter's 60-cent corned beef weren't out of hand today, sort of surprising. The B-Side Blog had a similar experience: "I kind of expected a long line, but much to my surprise, there were only about twenty or people queued up, pining for entry into the vaunted delicatessen. Even better, it turned out all these people were in the to-go line. I moseyed on up to the front, spoke to the host, and promptly nabbed at seat at the counter, all in a blink of an eye. Near free food and speedy service? Sounds like the perfect way to spend the afternoon." Let's see if that changes for dinner.
· Canter's Update #1 [~ELA~}
· Canter's Deli Celebrates Its 60th [B-Side Blog]For more stories from Eater LA, go to la.eater.com.
Copyright EATRL