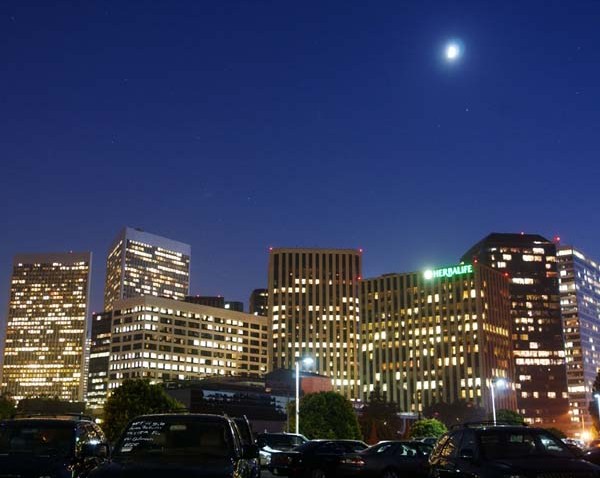 LOS ANGELES -- The new owners of the Hyatt Regency Century Plaza hotel announced plans Thursday to replace the iconic half-circle structure with two skyscrapers, but conservationists said the project would tear down an important part of the city's history.
Developer Michael Rosenfeld unveiled plans for a $2 billion mixed-use project that would include two 50-story buildings soaring above Century City, providing what backers hope will be an urban center to rival Rockefeller Center in Manhattan.
But it would mean demolishing the landmark Century Plaza, widely viewed as a standout example of 1960s-style of architecture. Every president since Lyndon Johnson has stayed there. Ronald Reagan stayed there so often that the presidential suite was renamed in his honor.
Mike Buhler, director of advocacy for the Los Angeles Conservancy, said the proposal "is just another example of an assault on 1960s architecture."
"They are talking about razing a perfectly functional, highly significant site designed by a prominent architect," Buhler said.
He noted that "Rosenfeld bought the hotel six months ago, called it a 'crown jewel in my hometown,' and now he wants to tear it down."
The proposed complex would for the first time add a pedestrian plaza in the center of Century City, giving the office and shopping development a new focus away from the automobile, it backers said. But it would remove a historic driveway layout that was the scene of a 1968 anti-war rally that turned into what police later admitted was an LAPD riot.
Demolition of the hotel would mean the end of the venue for Ronald Reagan's presidential victory speech, Richard Nixon's ceremony honoring the Apollo 11 moon pioneers and countless major civic events. The hotel was the centerpiece of Century City, a 1960s-era urban planning project that was built on the site of the 20th Century Fox studio's backlot production site.
The project would feature 106,000 square feet of retail space and a spa and fitness center at the plaza, and the two 50-floor buildings would house 130 luxury residential condominiums, a 240-room five-star hotel with 163 hotel residences and 100,000 square feet of office space. The property would continue to house one of the largest ballrooms in Los Angeles.
In a prepared statement, Rosenfeld said "the opportunity to redefine an urban center in one of the great international cities comes along once in a lifetime.
"The mixed-use project in the heart of Century City, with its public plazas, water features and gardens, will connect over 14 million square feet of existing office, retail and residential," he said.
According to Rosenfeld, the project will generate more than 1,000 permanent jobs and increase the city's tax revenue by $7.7 million annually. The total project value is estimated at $2 billion with more than $800 million in construction costs and 5,000 construction-related jobs. Approvals are expected to be complete in three years. The property will continue to operate as a Hyatt Regency hotel.
Rosenfeld's real estate investment company is a partner in a $6 billion real estate investment firm, The D. E. Shaw Group.
The plan was praised by Los Angeles Mayor Antonio Villaraigosa, but viewed cautiously by residents of a single-family housing tract to the west.