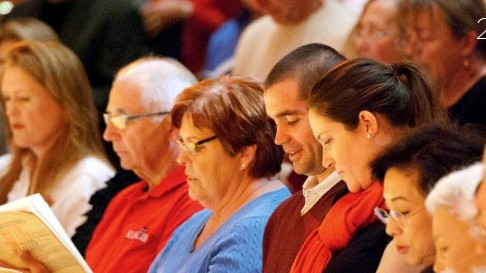 The summer sing-along boasts certain hallmarks that are, for all accounts and purposes, always present.
Audience members in shorts and sundresses? Yep. Picnic baskets and bags strewn over a large lawn or amphitheater? Oh yes. And is the movie on the screen "Grease" or "Sound of Music"? Likely.
But the winter sing-along is different. It's very likely happening at Walt Disney Concert Hall, people very likely arrive in red turtlenecks and green plaid pants, the LA Master Chorale is very likely leading it, and the composer is more often than not Handel.
Oh, and look at that; that will all come to pass on Monday, Dec. 12 when Handel's "Messiah" once again gets its moment in the sing-along spotlight. You are of course familiar with the rousing work, yes? If not, we bet you know the most famous word from it: hallelujah.
The soloist are on stage, but the chorus is the audience. It's so popular that there are three things to say: One, it is nearly sold out (but we looked and there are a few tickets left). Two, this is the 31st year. And three, many people are repeat returners, with some audience members famously marking their 20th and 30th "Messiah" anniversaries.
Because? Singing with the LA Master Chorale. Singing Handel. Singing inside Disney Hall. Those opportunities don't come around all the time. Sure, we like the summer sing night, for its lightness and cheek, but few things come close to donning a turtleneck and warbling a moving Noel standard.
Copyright FREEL - NBC Local Media