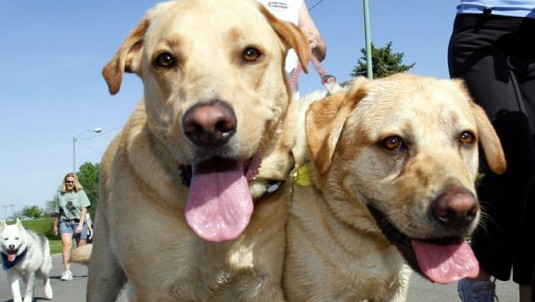 Dogs. They are so smart.
It turns out, in addition to being able to catch a ball or roll over on cue, they're master schedulers. They've put two major dog fund-raising walks back-to-back, or weekend-day-to-weekend-day, rather. How do they do it? Do they have a canine calendar that isn't sold at the office supply stores we frequent? We want answers.
And we jest. Of course human organizers are behind Strut Your Mutt, which is happening at Pan Pacific Park on Saturday, Sept. 24, and Wiggle Waggle Walk, which is wiggle-wagglin' at Brookside Park near the Rose Bowl on Sunday, Sept. 25.
Both are pretty high-profile events, and both raise money for organizations that assist the four-footed. Wiggle Waggle gives the love to the Pasadena Humane Society & SPCA; Strut Your Mutt is all about funding a mission called No More Homeless Pets.
Registration is soon to wrap on Strut, so get strutting if you want to go. Or you could just make for Pan Pacific to eye the poochly proceedings. We would. Fine fall Saturday activity and all that.
Oh, and surely you heard? Some people are forgoing having children and adopting pups. Bet one or two of those families'll be out walking at both events.
Copyright FREEL - NBC Local Media