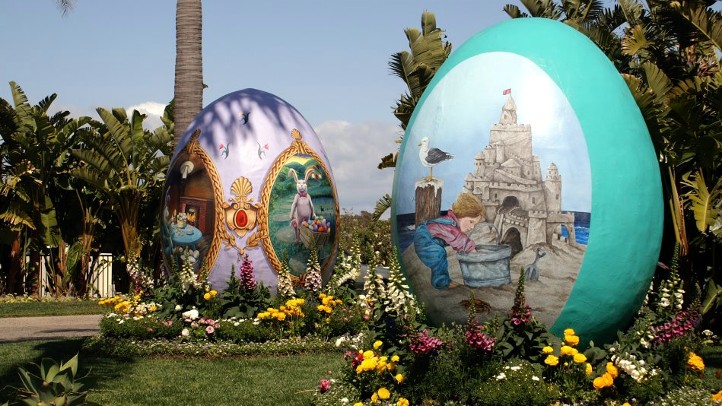 PLAY ON THE FORM: Picture the wee oval of the classic Easter egg in your mind. It's what? The size of your palm? Maybe a little larger? Now picture something much, much larger, paint it, with your mind, in whimsical photos, and place it on the lawn of a grand resort. It's pure whimsy, yes, but it actually exists every spring at the Ritz-Carlton, Laguna-Niguel. We're not sure if the property's iconic over-sized eggs are the largest eggs in the state, but we'll take a stand here and now and say that the Easter Bunny probably needs some assistance in carting those things around (like a tractor-trailer, say). A Ritz rep also tells us there's still availability for brunch on Sunday, April 8.
Still craving more SoCal outdoorsiness on Easter Saturday and Sunday?
If you're in San Diego... The San Diego Zoo is holding a Stroller Decorating Contest on Sunday, April 8. Think flowers, think streamers, think color, think festive. A grand prize is promised. There's also a buffet brunch at zoo, if you want to not miss out on the day's big meal.
If you're in Orange... The Irvine Park Railroad's Easter Eggstravaganza is hopping right on through Saturday, April 7. We're sweet on this because it involves both a bunny meeting and train rides and cookie decorating and and and... And a host of happy holiday haps. We were tempted to type "hops" there for a moment.
If you're in Fillmore... The Fillmore & Western is running a lunch train on Easter Day. Yep, the big-eared guy'll be riding the rails along with celebratory passengers. If this tempts definitely look into tickets in advance. Certainly that's show-and-tell-worthy for your tot? Riding an old-time train with the Easter Bunny?
Copyright FREEL - NBC Local Media