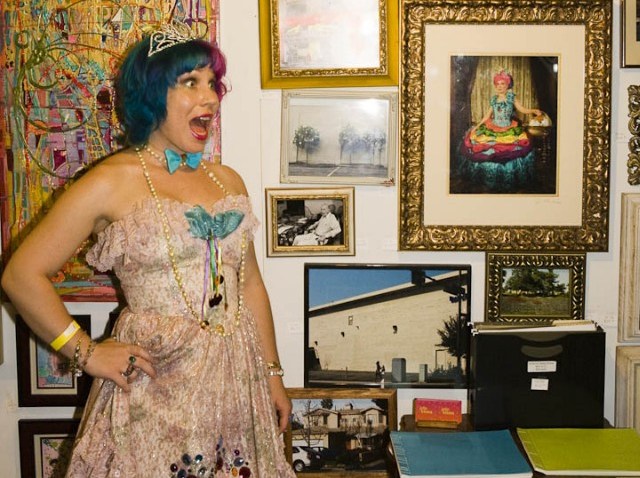 FIRST FRIDAY ART CLUB: Julie Klima -- aka Queen Skittles of the Doo Dah Parade -- just showed photographs in Altadena. And while it was happy Labor Day Weekend show -- in other words, it is gone -- the Gallery at the End of the World does regular First Friday Art Clubs. So calendars marked for next time.
DOWNTOWN ART WALK: It's up next on September 10th, it is a long, long nine hours, and the gallery-looking-walking-chatting is all free. How's this month different from last? There's a new Th!nk Art exhibit opening at Bert Green and a brand new show featuring artist Chrystal Chan at The Hive. The all-around-downtown walk lasts from noon-9PM, and there's a free shuttle.
ANALIA SABAN: She just had work shown at the Galerie Praz-Delavallade in Paris; now the artist's take on layered painting will be on display at the Thomas Solomon Gallery in Chinatown starting on Saturday, September 12th. Exhibit title: "Light Breaks Out of Prism."
ROGUE WAVE '09: The two-month exhibit is about to wrap, but there's still time to check out the work from "emerging and early career artists" from around our city. The space is LA Louver, the place is Venice, the final day is Saturday, September 19th.
VAIN REMAINS: The esoteric, symbol-filled work of Camilla d'Errico and Caia Koopman are at the center of a show debuting at thinkspace gallery on September 10th. Opening reception is the evening of the 11th. Noodling around also shows us that Ms. Koopman also works in iPod and iPhone skins. If you're looking for your phone to be prettied and be-waifed.
Copyright FREEL - NBC Local Media