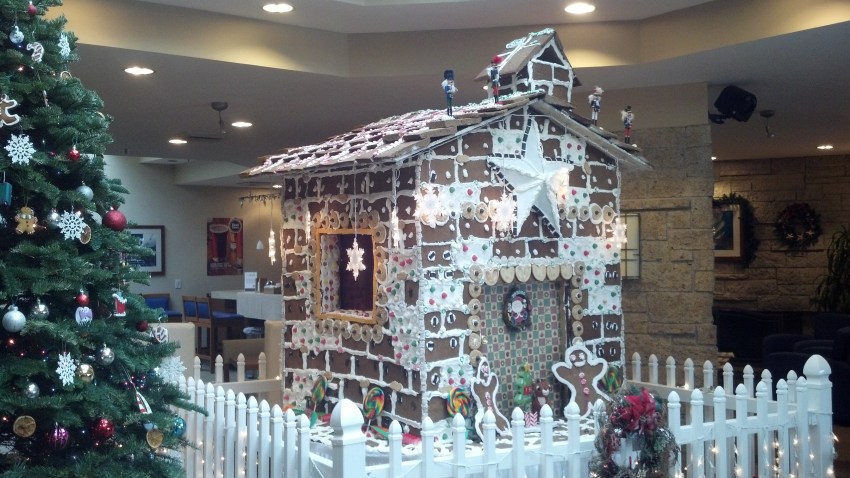 SWEET DECOR: Hotels and gingerbread houses are a pairing that goes back several decades. Consider the fact that the cooler summertime ice sculpture, the one that sits in the center of the Sunday brunch in many a fine establishment, goes gingerbread come December, an instant, food-related signifier that the holidays are upon us. There are also a number of historic hotels that are known for their gingerbread displays, the first-and-foremost being the Grove Park Inn in North Carolina. But we have a number of inns around the Golden State where sugary structures are king. The Claremont in Berkeley has gone gingerbread in past years, as has the Westin St. Francis in San Francisco (that hotel is putting a spin on the sweet attraction this year with a 12-foot rotating sugar castle). And in Ventura County West? Not one but three local hotels are displaying gumdrop-laden wonders.
WHERE TO FIND THEM: The Pierpont Inn, Four Points by Sheraton Ventura Harbor Resort, and the Residence Inn by Marriott at River Ridge in Oxnard all have gingerbready buildings on public display through this yuletide season. The Four Points house is five feet by five feet by six feet and required 600 pounds of flour, in fact; impressive. If you're in the area on Dec. 14 and 15 and in an especially jovial mood, stick around for the Ventura Harbor Parade of Lights. Lighted boats out on the Pacific? It's definitely a California-cool sight. (And perhaps a lighted boat gingerbread structure would be the perfect complement to the region, too.)
GINGERBREAD SOUTH: And if you're a huge fan of the sweet stuff, include Santa Ana in your seasonal plans. It's a drive from Ventura, of course, but a mega gingerbread-focused show is on at the Discovery Science Center through Jan. 6.
Copyright FREEL - NBC Local Media